With its bright colors, the Téméraire by Baluchon offers a bold design with sleek, modern architecture. The tiny home is 6-meters long (~20-feet).
The exterior of the tiny house is clad in bright turquoise blue aluminum and red cedar siding with a clear finish. The aluminum matches the roof and front door.
Baluchon carried the turquoise blue inside with accent walls in the kitchen and living room.
The kitchen fits along one wall and includes a four burner gas stove and under counter refrigerator.
Next to the front door is a cabinet for shoe storage. On top of the cabinet is a wood-burning stove with space to store wood below.
The living room includes a sofa, coffee table, and small armchair. The sofa is located under the storage staircase.
The staircase has several storage spaces, including a space for the owners' dogs. The staircase leads up to a landing area with high ceiling, providing easy access to the bedroom loft.
The bedroom loft has room for a double bed and has a rope balustrade in a sunburst pattern.
In the bathroom is an 80x80cm shower, dry toilet with stainless steel bucket and chip compartment, washer/dryer combo, and a large wardrobe with room for hanging and folded clothes.
The Téméraire was built as the primary residence for a couple and their dogs.
For more information about the Téméraire, please contact Baluchon.
Also available from Baluchon: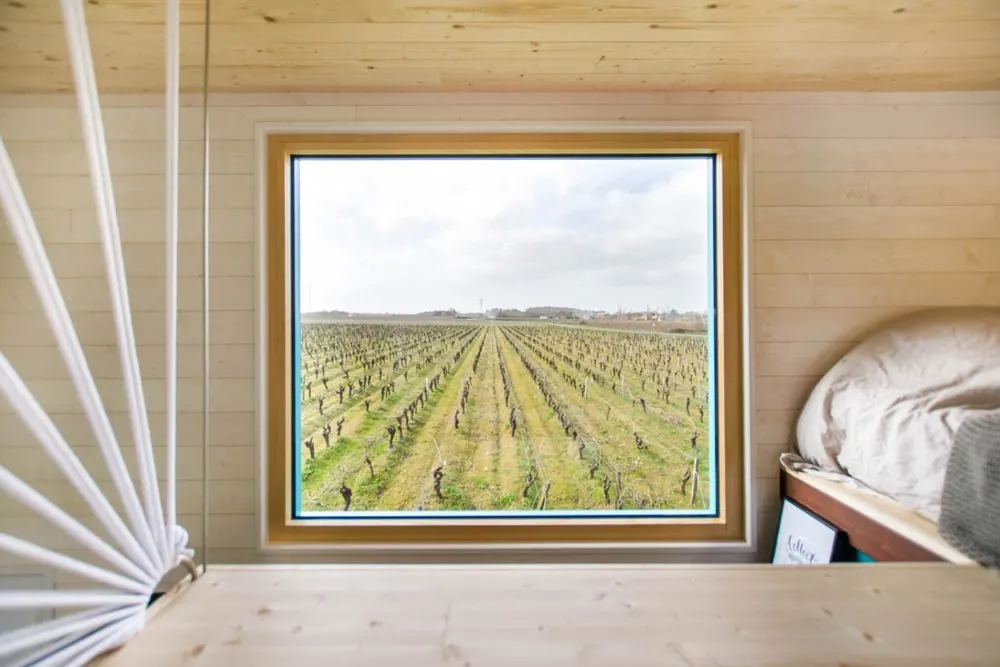 Images © Baluchon