Built by France-based Baluchon is the Astrild, a 6-meter (~20-foot) tiny home with room for a family of three. The home features two lofts with wooden balustrades.
The exterior of the Astrild is clad in red cedar and heat-treated poplar. A set of inset shelves provides room for an herb garden. The home is insulated with cotton, linen, and hemp for the floor and walls, and wood fiber for the ceiling.
The interior is finished with natural and stained white spruce walls and solid spruce stained flooring.
The living room has a removable oak and spruce table, a large sofa surrounded by windows, and a long bookshelf above. A wood stove is installed on the wall and is enough to heat the whole house in winter.
The kitchen provides a large countertop, custom cabinetry with pull-out shelves, a washer/dryer space, and an under counter refrigerator.
The parents' bedroom loft is accessed by a storage staircase, and the daughter's loft is accessed by a ladder. The main loft has a built-in wardrobe and the second loft has plenty of room for storage space.
Finally, the bathroom includes an 80x80cm shower and a dry toilet with stainless bucket and chip compartment.
For more information about the Astrild, please contact Baluchon.
Also available from Baluchon: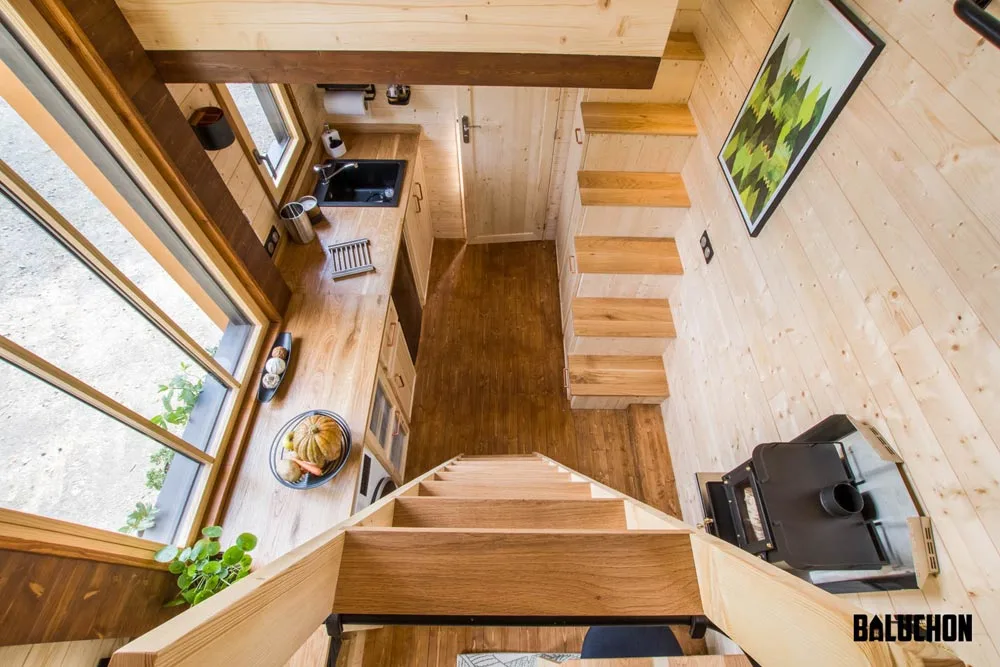 Images © Baluchon