Built by Minimaliste, the Thuya is a 315-square-foot park model tiny house. The layout was based on Minimaliste's Saule design, but the 10.5′ width allowed for a storage staircase, bigger kitchen, and a dedicated living room.
The Thuya was built for a couple living on Mayne Island in British Columbia.
The exterior cladding on the Thuya is a combination of natural cedar installed horizontally and Shou Sugi Ban cedar installed vertically. Over time the natural cedar will turn from white to a light gray. A two-foot bump-out extends the 28-foot home to 30-feet.
The interior finishes are Minimaliste's most popular — white painted pine walls with a stained knotty pine ceiling.
Thanks to two big windows, the living room is filled with natural light. The two-foot bump-out was used for the entertainment area.
The house temperature is easily managed between the mini-split system above the entertainment center and a ceiling fan in the living room.
A peninsula with seating for two separates the living room from the kitchen. The functional kitchen includes a custom countertop, upper cabinets, toe-kick cabinets, spice rack, and room for a microwave. The appliances include an apartment size refrigerator, oven, and 30″ cooktop with range hood.
Storage stairs provide more pull-out shelves and drawers. The bedroom loft can accommodate a king size bed with a nightstand on each side. There is also built-in clothing storage based on the clients' needs.
As you first enter the bathroom you'll have a stackable washer and dryer to your left and the mechanical closet to the right. Under the closet is space for a litter box. Directly ahead is the IKEA sink and a mirrored medicine cabinet. To one side of the sink is the 36″x36″ shower with gorgeous epoxied panels from Muraluxe. To the other side of the sink is a flush toilet and floor-to-ceiling storage area.
For more information about the Thuya, please contact Minimaliste.
Also available from Minimaliste: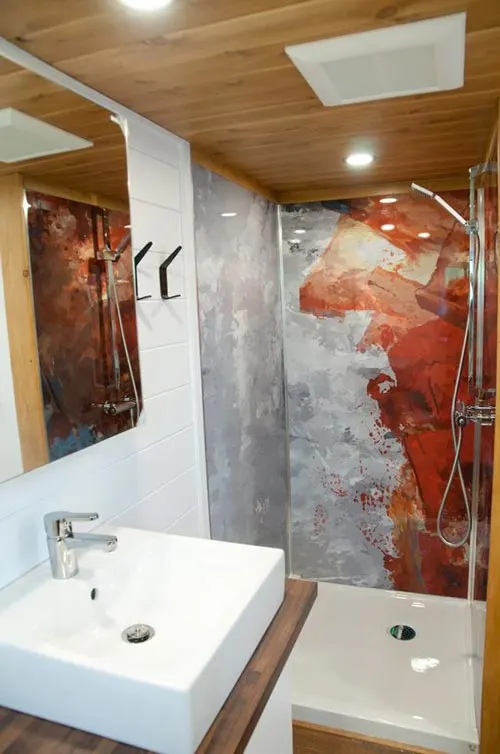 Images © Minimaliste