The Ebene is a modern 10′ x 34′ park model tiny house built by the Minimaliste team in Quebec. The house has a total of 475-square-feet between the main level and two lofts.
The owners are a young couple in Ontario with a piece of land. Since they aren't planning to travel regularly with the tiny home, they opted for a wider trailer that allows for a spacious living space.
The Ebene's beautiful exterior contrasts shou sugi ban and natural cedar finishes. The house is primarily dark siding run vertically with natural accents run horizontally.
The living room can be converted into a dining room for six people. A pop-out sits over the tongue of the trailer and provides a perfect spot for the TV, mantel, and electric fireplace. Above the living room is the king bedroom loft with built-in cabinets.
The kitchen features a ceramic glass cooktop, a convection oven/microwave, a fridge and a freezer. Custom cabinets, drawers, and large pantry provide plenty of storage space.
The bathroom includes a 30″x60″ shower/tub with Muraluxe wall panels, a vanity with vessel sink, space for a side-by-side washer and dryer, and a toilet area with fan. Above the bathroom is the second loft with ladder access.
Make sure to check out the video tour below! For more information about the Ebene, you can contact Minimaliste.
Also available from Minimaliste: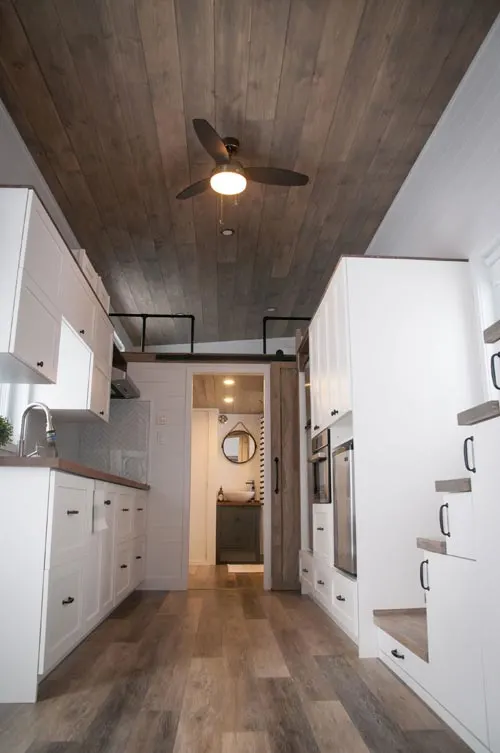 Images © Minimaliste