Designed for a retiree with physical limitations, the Laurier by Minimaliste offers a main floor bedroom with sliding table over the bed that can easily be moved back and forth. The Laurier is 10-feet wide by 32-feet long and it's the sixth turnkey tiny house built by Quebec-based Minimaliste.
The light-colored exterior includes white cedar with a natural finish, white roof and trim, and a white metal accent piece across the top.
As you first enter the Laurier you'll be in the living room, which has a sectional couch that converts into a queen bed with storage underneath.
Above the couch are two shelves, two cabinets, and a long shelf that spans across the top of the window.
A mirrored table hangs against the wall as a mirror when not in use, then folds down to function as a dining table.
Below the table is a bench so you can sit down to take your shoes off as you enter the door.
The kitchen features a wood counter, lighted cabinets, 12-volt refrigerator, two burner stove and oven, and a pull-out cabinet for trash and recycling.
The storage stairs have a place for a washer/dryer combo and a pull-out first step. The stairs lead up to the guest bedroom loft.
The main floor bedroom has a high ceiling with two large shelves above the bed, a large cabinet with sliding door, and two cabinets with swinging doors. The double bed has storage space underneath as well.
The tiny house is powered by a 2KW solar energy system and propane. It also has the first propane radiant floor system so the owner can stay warm in the North Carolina winters. The propane system was installed in a soundproof closet.
Finally, the tiny house has one of the most beautiful bathrooms with its 36″x36″ shower with glass door and fiber cement shower panels. There is also a cedar ceiling, vanity, composting toilet, and plentiful storage space.
For more details and pictures, be sure to visit the Minimaliste website.
Also available from Minimaliste: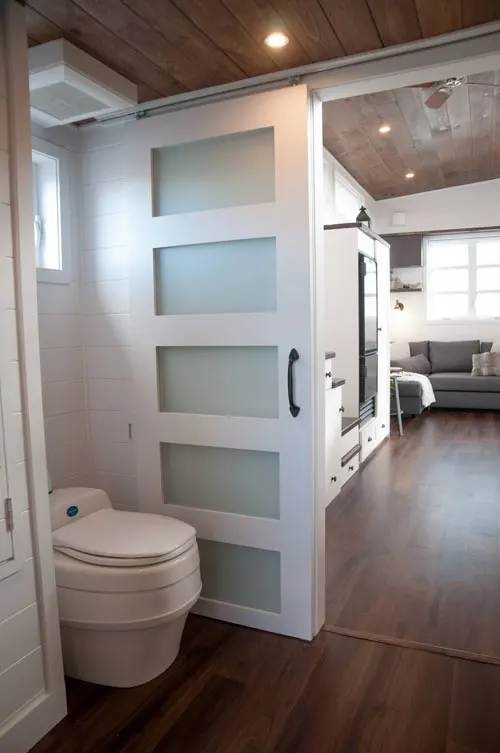 Images © Minimaliste