Designed for a young Ontario family of four, the Charme by Minimaliste offers three bedrooms, including a main floor master bedroom with a 6'4″ ceiling.
The exterior of the Charme was inspired by Minimaliste's Magnolia model, which has a mix of vertical and horizontal cedar siding. The horizontal cedar is stained and the vertical cedar is Shou Sugi Ban cedar. The tiny house is 38.5-feet long and 10.5-feet wide, providing a total of 330-square-feet of living space.
The family lives in Ontario, Canada and will use the house full-time, so Minimaliste included high insulation values of R34 in the floor, R24 in the walls, and R44 in the roof. There is also an air exchange that fully cycles the air every 1.12 hours.
Inside the Charme are white walls and cabinets, complemented with wood floors, ceiling, and trim.
To conserve space, the living room also serves as a dining room. IKEA storage seats can be moved around to create a sofa or be used as chairs around a butterfly convertible dining table.
The full kitchen includes an electric cooktop, built-in microwave, a double sink, and a small dishwasher. The 10-foot countertop is made from a low-maintenance pre-molded laminate and the backsplash is Muraluxe aluminum/epoxy.
A dual storage staircase provides abundant storage options, including a large pantry cabinet with drawers.
At the top of each staircase is a bedroom loft for the owners' two children.
The main floor master bedroom has a Kangaroo storage bed, night stands, and two storage units for clothes on each side of the bed.
The Charme's bathroom is compact, but still has enough room for a 32″x48 shower with glass doors, vanity with medicine cabinet above, and a conventional flush toilet. The bathroom also has a mechanical room for the various house systems: water filtration system, hydronic radiant floor system, and 30 gallons electric hot water tank.
For more information about the Charme, you can contact Minimaliste.
Also available from Minimaliste: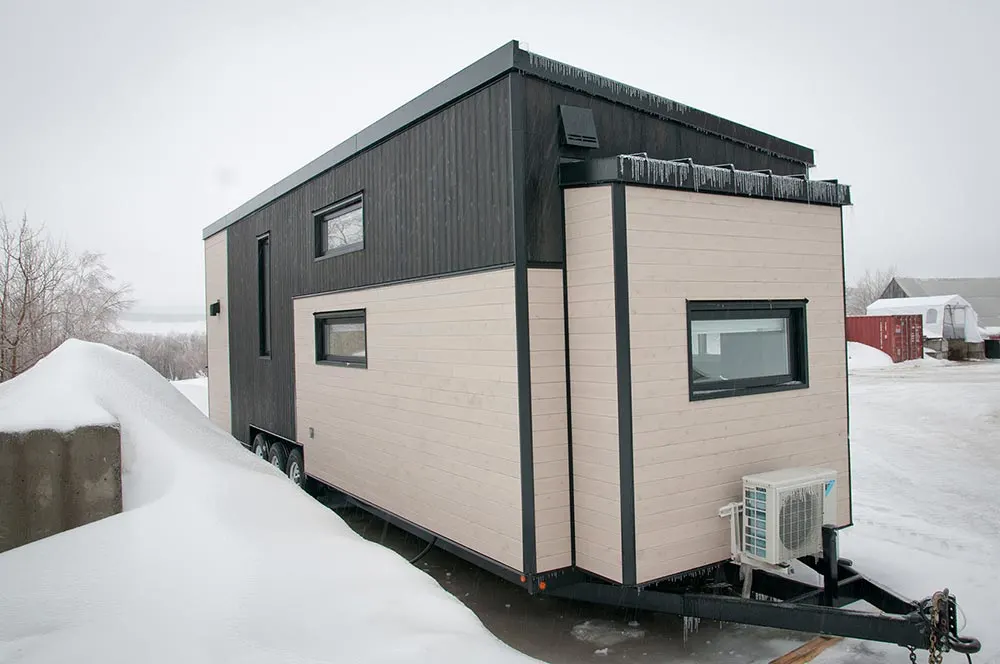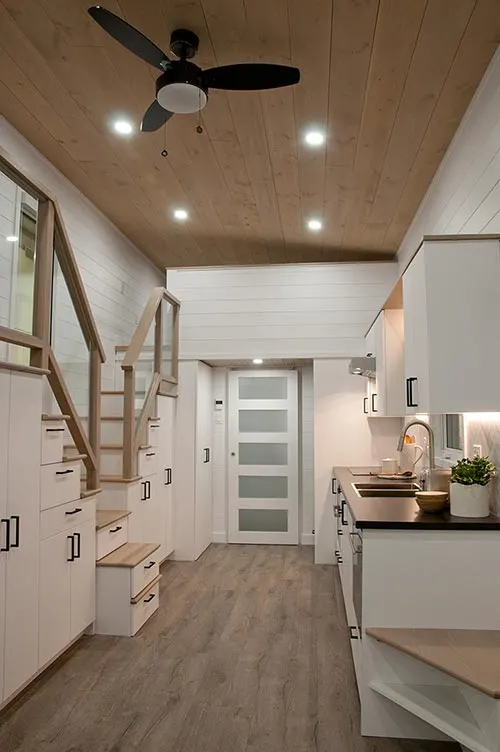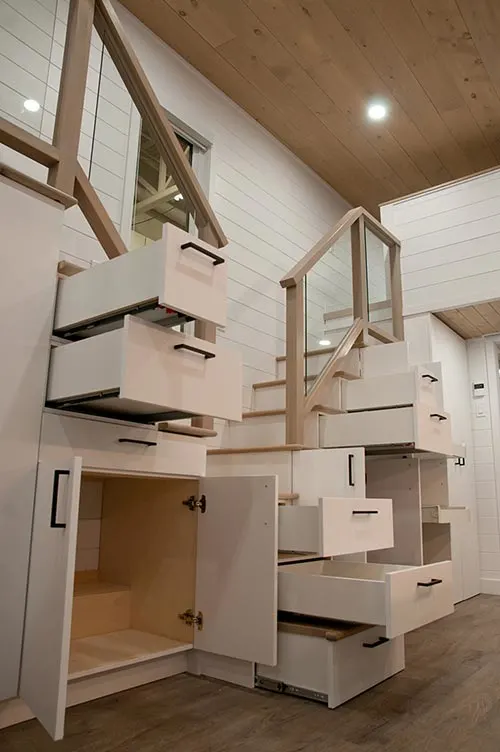 Images © Minimaliste