Designed for a client in California, the Noyer by Minimaliste features an elevated living room. This allows for an open floor plan while creating distinct living areas without the use of separations.
The Noyer was built on an over-width 30-foot by 10.5-foot trailer, providing an additional two feet of space compared to the typical tiny house. The tiny home will be inhabited full-time.
The exterior combines charcoal-colored steel siding and stained eastern cedar cladding. The slope of the roof allows for better headroom in the bedroom loft.
The sleek, minimalist kitchen features a walnut counter and four walnut shelves above, dark blue cabinets with copper handles, and toe-kick drawers under the cabinets. Appliances include an apartment size refrigerator, a propane cooktop, a dishwasher drawer, and a designated place for a toaster oven.
Next to the kitchen is a built-in bench and an office space with desk and bookshelves.
The elevated living room platform allows for floor storage and two large 8-foot deep drawers. The combination of white walls and wood ceiling creates a cozy atmosphere. The living room is large enough to fit a couch, chair, coffee table, and entertainment center.
The bedroom loft is accessed by a storage staircase and includes a queen size bed with nightstand on each side. The utility platform next to the loft offers standing room to change in front of the wardrobe.
In the bathroom is a large 32″×48″ shower with glass doors, a custom vanity, a Separett composting toilet, and a combo washer/dryer. There is also storage space for towels and a small mechanical room that houses the propane instant water heater and the 12V fuse panel.
For more information about the Noyer, please contact Minimaliste.
Also available from Minimaliste: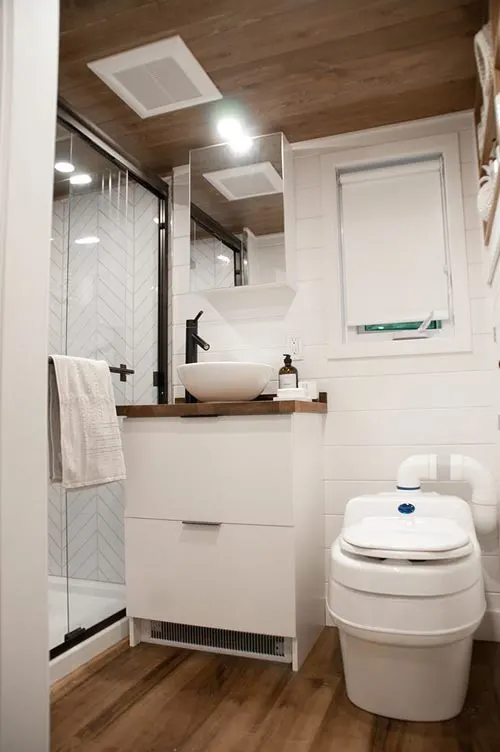 Images © Minimaliste