With its main floor bedroom and two lofts, the Pacific Pioneer by Handcrafted Movement can comfortably sleep up to seven people. The Bohemian Minimalist style provides a bright, airy interior with high quality finishes.
The 28-foot tiny house has board and batten siding with Pacific Red Cedar accents, a standing seam metal roof, and a 9-lite craftsman style exterior door.
Inside the Pacific Pioneer are gorgeous wood finishes including walnut butcher block kitchen countertops, a matching dining table, hickory hardwood flooring, and a live edge headboard in the master bedroom.
Built-in storage cubbies, cabinets, and closets offer plentiful storage space.
The kitchen is equipped with full size appliances including a 24″ four-burner freestanding range and 11 cu.ft. refrigerator.
Across from the kitchen is the built-in dining table and seat with leather cushion.
An electric fireplace with thermostat and wall heater keep the tiny house warm and cozy during the winter. The house is also well insulated with R-25 floor insulation, R-15 wall insulation, and R-23.5 closed-cell spray foam ceiling insulation.
For more information about the Pacific Pioneer, please visit Handcrafted Movement.
Also available from Handcrafted Movement: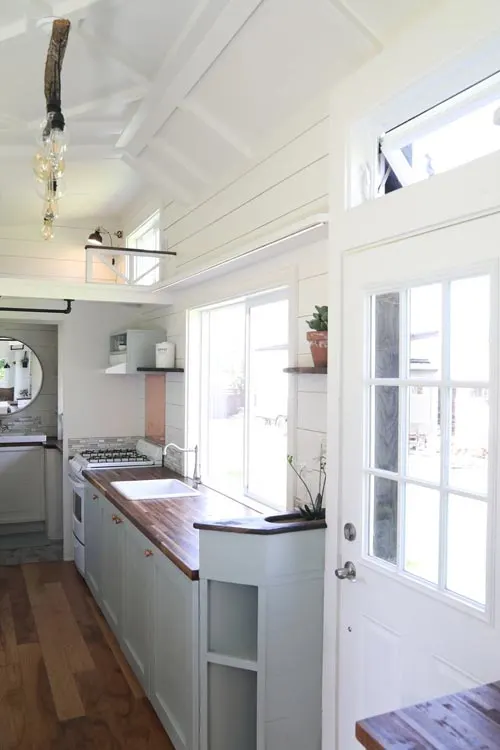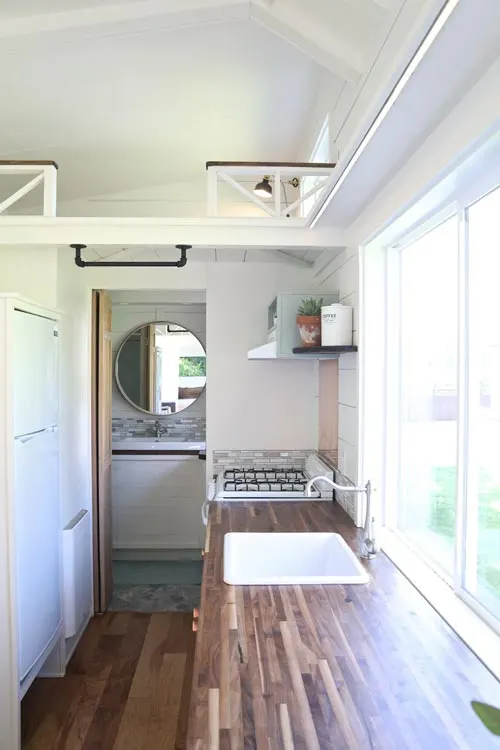 Images © Handcrafted Movement