What is a shipping container tiny home?
Rather than being built on a trailer, a shipping container tiny home is built out of a steel shipping container. You know those big containers they use for shipping goods on cargo ships and stack on trains? Those are being used for tiny homes!
Since they are not built on a trailer with wheels, these are best when you have a permanent location, although they can be moved if necessary.
What are the drawbacks of shipping container tiny homes?
There are only two standard container lengths, 20-feet and 40-feet, and two heights, 8.5-feet and 9.5-feet. All standard shipping containers are 8-feet wide. This means you can only have a 160-square-foot or 320-square-foot tiny house.
However, you can get creative by combining containers. CargoHome built the Helm, which is a two story home with a 20-foot container stacked on a 40-foot container. Customer Container Living created the Happy Twogether, which consists of two 20-foot containers side-by-side and offset a couple feet.
Why choose a shipping container tiny home?
They are extremely strong since they are built from a shipping container that is made to move goods across the high seas.
So long as they are properly protected from rust, they will outlast a traditional framed tiny house.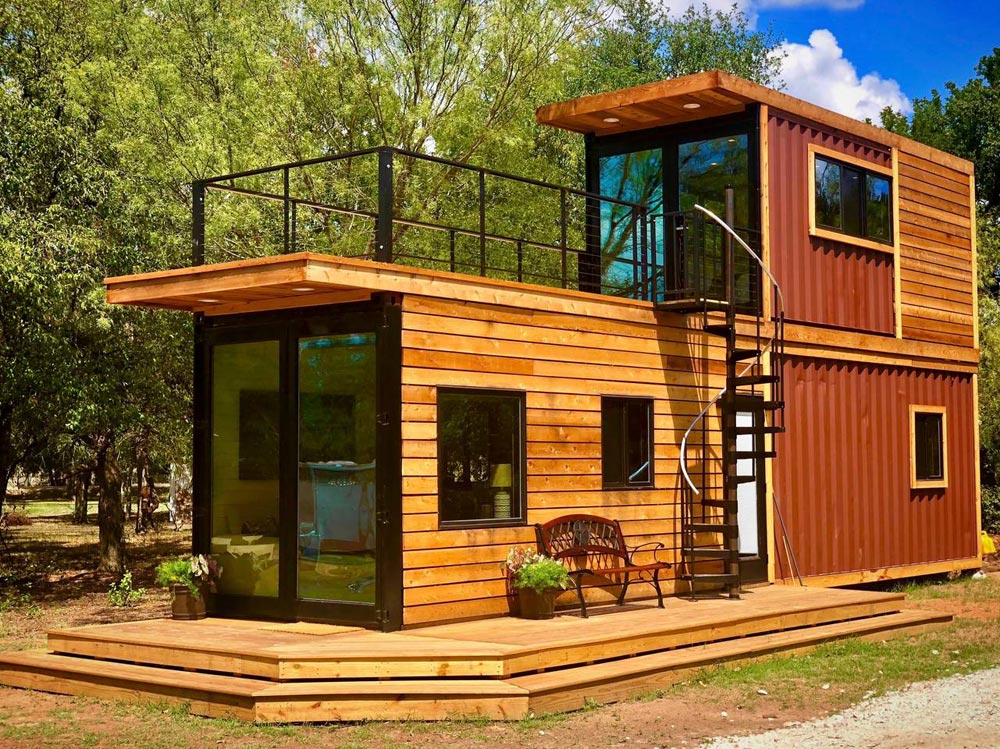 What companies build shipping container tiny homes?
There are several tiny home builders throughout the US that specialize in container homes. A few of the most popular are:
CargoHome – Waco, TX
Backcountry Containers – Houston, TX
Custom Container Living – Archie, MO
Alternative Living Spaces – Las Vegas, NV
Can you DIY a shipping container tiny home?
You can! A great example is the hâB Shipping Container Tiny Home, built by Tomas Ryan. He did a great job journaling his DIY adventure.
Want to see some more cool shipping container tiny houses?
We've featured quite a few over the years! Here are some examples: