What is a shipping container tiny home?
A shipping container tiny home is a small living space made from one or more steel shipping containers. These containers are typically used for transporting goods across the ocean, but they can be repurposed into homes or other structures. You know those big containers they use for shipping goods on cargo ships and stack on trains? Those are being used for tiny homes!
The containers are transformed into cozy, efficient living spaces that are perfect for those looking to downsize or live a more minimalist lifestyle.
Since they are not built on a trailer with wheels, these are best when you have a permanent location, although they can be moved if necessary.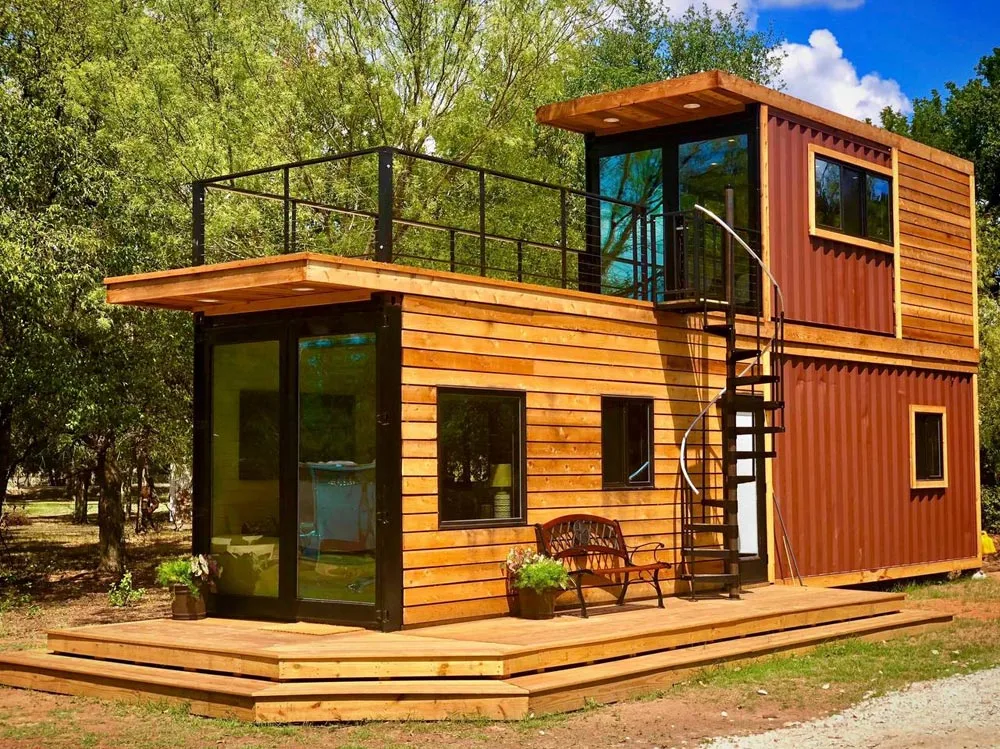 What are the advantages of shipping container tiny homes?
Strength and Durability
Shipping containers are designed to withstand harsh weather conditions and rough handling during transportation. As a result, they are extremely strong and durable. When properly maintained, they can last for decades, even outlasting traditional framed tiny homes.
Moreover, shipping container tiny homes are resistant to pests, mold, and fire. They are also less susceptible to damage from natural disasters, such as hurricanes and tornadoes.
Cost Savings
One of the biggest advantages of shipping container tiny homes is their affordability. Compared to traditional homes, tiny container homes can be much cheaper to build and maintain.
Eco-Friendly
Building a shipping container tiny home is an eco-friendly option that helps reduce waste and carbon footprint. By repurposing a used shipping container instead of new container, you are giving new life to materials that would otherwise go to waste. This approach is a great way to reduce the need for new building materials, which helps conserve natural resources.
Furthermore, shipping container homes are energy-efficient, which means they require less energy to heat and cool. This reduces the overall carbon footprint of the home and helps protect the environment.
Versatility
Another benefit of shipping container tiny homes is their versatility. They can be customized meet your specific needs and preferences. They can be designed to accommodate any lifestyle, from minimalist to luxurious. Some people use them as vacation homes, while others live in them full-time. They can also be used as guest houses, home offices, or even as short-term rentals.
Shipping containers can also be stacked or combined to create larger living spaces or multi-level homes.
What are the drawbacks of shipping container tiny homes?
While shipping container tiny homes have become increasingly popular in recent years, they do come with some disadvantages that should be considered before making a decision to purchase or build one. Here are some of the main drawbacks:
Sizes
There are only two standard container lengths, 20-feet and 40-feet, and two heights, 8.5-feet and 9.5-feet. All standard models are 8-feet wide. This means you can only have a 160-square-foot or 320-square-foot tiny house container.
However, you can get creative by combining containers. CargoHome built the Helm, which is a two story home with a 20-foot container stacked on a 40-foot container. Customer Container Living created the Happy Twogether, which consists of two 20-foot containers side-by-side and offset a couple feet.
Insulation
Shipping containers are made of metal, which means they can get very hot or very cold depending on the weather. Proper insulation is crucial to making a shipping container house comfortable to live in, but it can also be costly.
Permits
Obtaining building permits for a shipping container home can be difficult in some areas. Some local governments may not be familiar with the concept of shipping container homes, which can lead to delays and extra expenses.
Transportation
Shipping containers are designed to be transported by semi truck, train, or cargo ship. Moving a shipping container home from one location to another can be difficult and expensive, especially if the home is not designed to be easily disassembled and reassembled.
Despite these disadvantages, shipping container tiny homes can still be a viable option for those who are willing to put in the time, effort, and money required to make them comfortable and livable. It's important to carefully consider all of the pros and cons before making a decision.
What companies build shipping container tiny homes?
There are several tiny home builders throughout the US that specialize in container homes. A few of the most popular are:
CargoHome
CargoHome is a company based in Waco, Texas that specializes in turning shipping containers into elegant and efficient living spaces. They offer a variety of floor plans and custom options to fit your specific needs and budget. Their portable tiny homes are perfect for a weekend getaway or a guest house. They also have their own rental units available through Airbnb (Mainsail, Helm, and Anchor).
Backcountry Containers
Backcountry Containers – Houston, TX – A family-owned and operated company that builds unique and modern dwelling structures using a combination of 20- and 40-foot containers. They offer both standard and custom container structures, and their builds are designed to stand the test of time. Their homes are perfect for those who want to live off the grid or in remote locations.
Custom Container Living
Custom Container Living – Archie, MO – Established in 2015 by Robert Wagoner, Custom Container Living provides quality shipping container homes for full-time homes, vacation cabins, rentals, or even a business property. Most of their floorplans are certified modular homes, which helps ease your ability to get financing and municipality approvals.
Alternative Living Spaces
Alternative Living Spaces is a Las Vegas-based company that specializes in building tiny homes using shipping containers. They offer a variety of models ranging from 160 to 320 square feet, and they can be customized to fit your individual needs. Their homes are designed to be energy-efficient and sustainable, making them a great choice for those who want to reduce their carbon footprint.
These are just a few of the many companies that specialize in building shipping container tiny homes. When choosing a company, be sure to do your research and choose one that has a solid reputation and a track record of building quality homes.
Can you DIY a shipping container tiny home?
You can! A great example is the hâB Shipping Container Tiny Home, built by Tomas Ryan. He did a great job journaling his DIY adventure.
Want to see some more cool shipping container tiny houses?
We've featured quite a few over the years! Here are some examples: