From New Zealand tiny house builder, Build Tiny, is the Kingfisher Tiny House, a completely off-grid model custom built for a client that will use it as a holiday home on a beach north of Auckland.
The tiny home was built on an 8-meter long x 2.4-meter wide trailer (approximately 26-feet x 8-feet) and was constructed with a steel frame.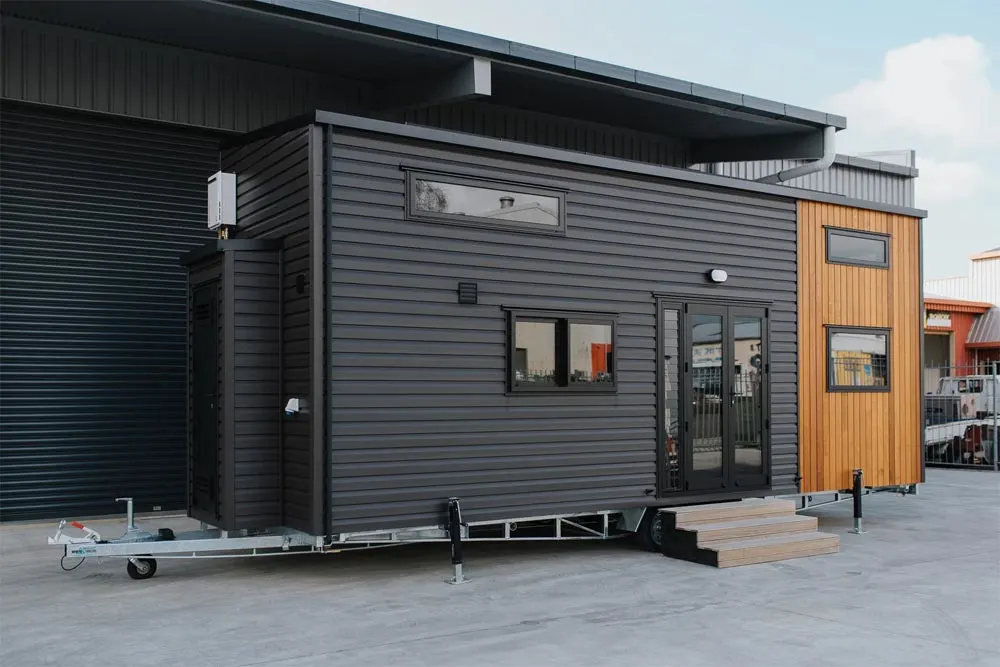 The exterior was finished with gunmetal grey vinyl cladding and a cedar feature wall. The windows are all double glazed with aluminum frames. Lightweight poplar core plywood lines the interior walls.
The off-grid system includes six Trina 270w Honey Poly Module solar panels. The inverter and four C&D 12V 192Ah c20 FT lead carbon cyclic batteries are stored in a box over the tow bar.
The Kingfisher has an open floor plan with large living area and galley kitchen. In the kitchen you'll find a dishwasher, oven/range with hood, full size refrigerator, and washing machine. There are also recessed shelves and storage stairs with two pull-outs.
The queen size bedroom loft has a walking platform and wardrobe next to the bed. There is extra storage space at the end of the bed. The second loft has two twin beds, a wall-mounted TV, and cubby/basket storage.
In the bathroom is a shower, vanity, Bambooloo toilet, and fold-up benchtop over the toilet for extra towel space.
For more information about the Kingfisher Tiny House, please contact Build Tiny.
Also available from Build Tiny:
Images © Build Tiny