From Timbercraft Tiny Homes is this stunning 42-foot Denali XL. Timbercraft increased the length of the original Denali by five feet and also expanded the width to 9.5-feet, giving it a total of 399-square-feet.
The custom gooseneck tiny home has four powered skylights with wall-mounted remote and rain sensors so they automatically close when it starts raining.
The interior includes shiplap walls, stained wood ceilings, and hardwood floors. There is a fir wood entry door and wood clad windows throughout.
The kitchen features an L-shaped quartz countertop with breakfast bar, white farmhouse sink, blue gray bottom cabinets and white upper cabinets, under cabinet lighting, and a fold down bar under a window. Appliances include a 24″ four burner gas range, full size refrigerator with bottom freezer, trash compactor, and dishwasher. A large pantry is located in the hallway.
A stained wood pocket door leads into the spacious bathroom. The bathroom has a steam shower with subway tiles and glass door, vanity with quartz counter, Incinolet incinerator toilet, linen shelves, and humidistat fan. A washer/dryer combo is hidden behind a set of doors.
The bedroom is located up a short set of storage stairs over the gooseneck. This allows for a private bedroom area with room to stand up. In the bedroom is a king size bed with room to walk around all sides, and the bed lifts up to reveal a storage compartment. A walk-in closet provides two clothes rods and a storage deck over the bathroom.
The house is heated and cooled with two 9,000 BTU mini-split units. One is located in the bedroom and the other is over the kitchen. The house is spray foam insulated, so it is energy efficient and easy to heat and cool.
For more information, please contact Timbercraft Tiny Homes.
Make sure to check out the video tour below!
Also available from Timbercraft Tiny Homes: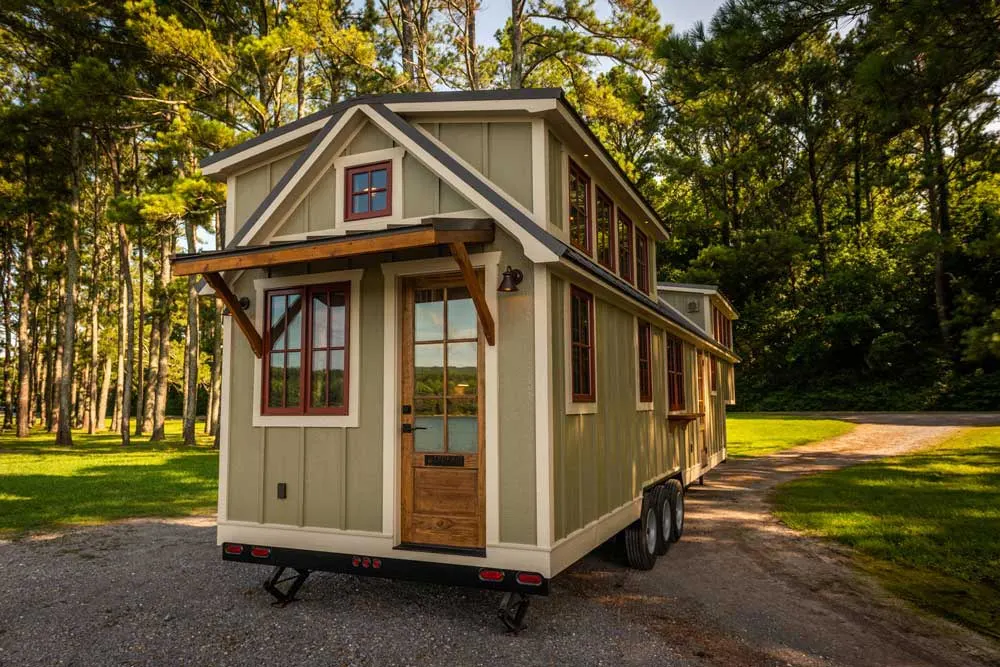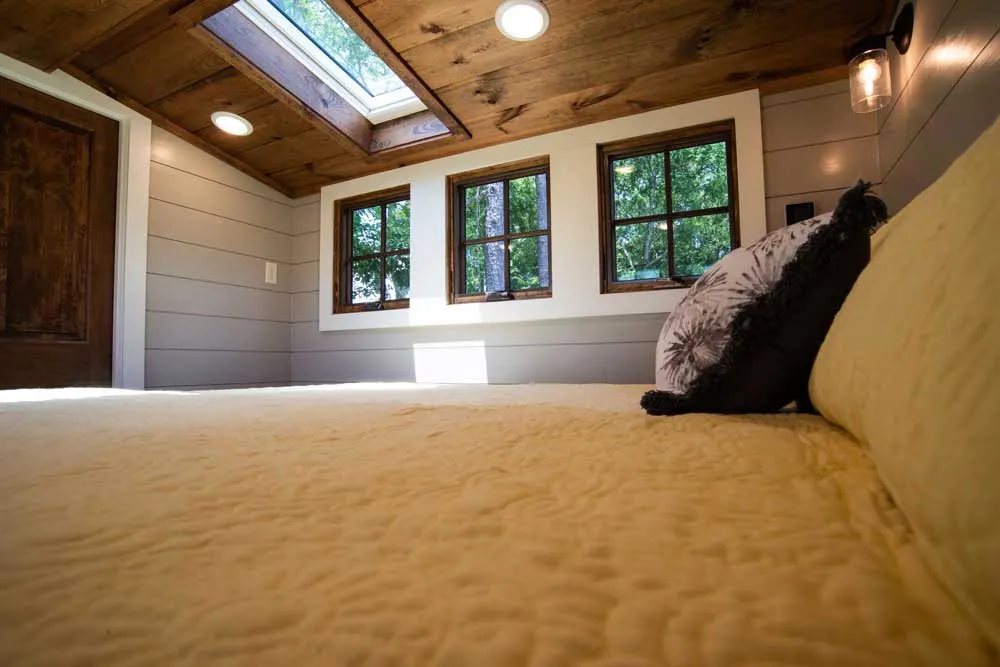 Images © Timbercraft Tiny Homes