The Surfbird is a 24-foot tiny house built by Vancouver Island-based Rewild Homes. The home offers two sleeping lofts with extra privacy.
The master bedroom loft has a 3/4 wall for privacy, and the secondary loft has a fully closed and insulated wall. Each loft has built-in shelves. A set of storage stairs leads up to the master loft and takes up less floor space by wrapping around the living room.
In the living room is a built-in bench seat with storage, a movable ottoman, and outlets for a wall-mounted TV. A skylight provides natural light for the living room and kitchen.
The kitchen is equipped with a 24″ propane range, microwave with range hood, and full-size refrigerator with bottom freezer. Local Vancouver Island fir was used for the cabinetry and trim throughout the home.
The luxurious bathroom includes in-floor heating under the stone tiles, a full size bathtub with tile surround, a modern sink, and a flush toilet.
The exterior of the Surfbird combines wood siding with a shake shingle accent around the full light front door.
For more information about the Surfbird, please contact Rewild Homes.
Also available from Rewild Homes: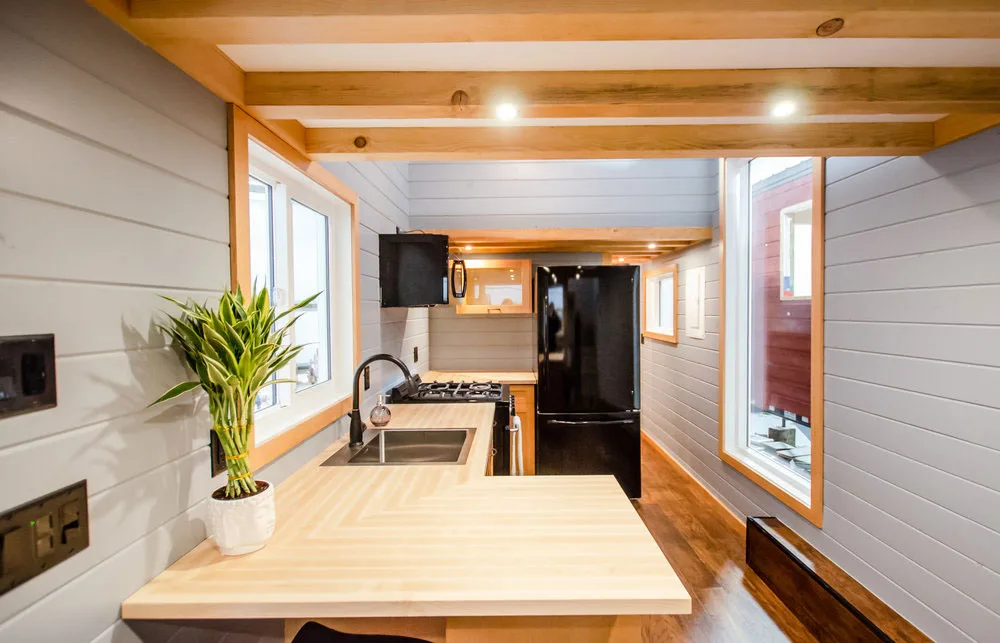 Images © Rewild Homes