The Lookout v2 was built by Mike Bedsole and his team at Tiny House Chattanooga. It's based off their award-winning Lookout that won "Best in Show" at the 2016 Tiny House Jamboree.
The gooseneck tiny house has a 26-foot trailer plus a 7-foot neck.
There is 6'7″ of clearance on the high side of the bedroom, located in the gooseneck portion of the house. The bedroom also has a large closet space with drawers and a hatch in the floor for extra storage.
The kitchen includes upper cabinets, a full size microwave and refrigerator, a pull-out garbage can, a spice rack next to the three burner slide-in stove, and a washer/dryer combo.
The raised platform living room helps separate the space from the kitchen, plus it provides extra storage space underneath. There are two skylights in the tiny house — one in the living room and the other in the bedroom.
As with the original Lookout, the v2 has a tiger wood shower. There is also an IKEA vanity and a medicine cabinet for a bit of extra storage.
Tiny House Chattanooga used steel framing and siding to build the Lookout v2, which saved about 2,000 pounds compared to traditional framing and siding.
Also available from Tiny House Chattanooga: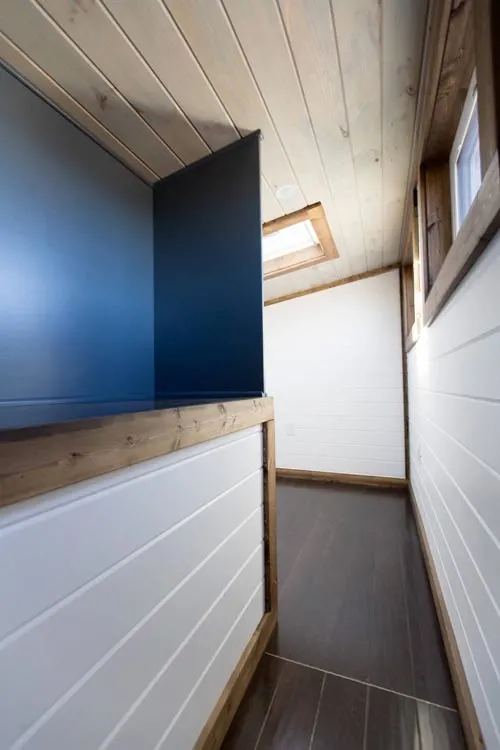 Images © Tiny House Chattanooga