The Winter Wonderland is a customized off-grid V House built by Nelson Tiny Houses in Nelson, British Columbia, Canada. This is their largest V House to date, measuring 380-square-feet and sitting on a 38'x9′ gooseneck trailer.
Arctic blue board-and-batten siding contrasts nicely with the white windows and door. The roof was built in sections in the shop and installed on-site to accommodate a larger overhang. The large deck adds a lot of outdoor living space.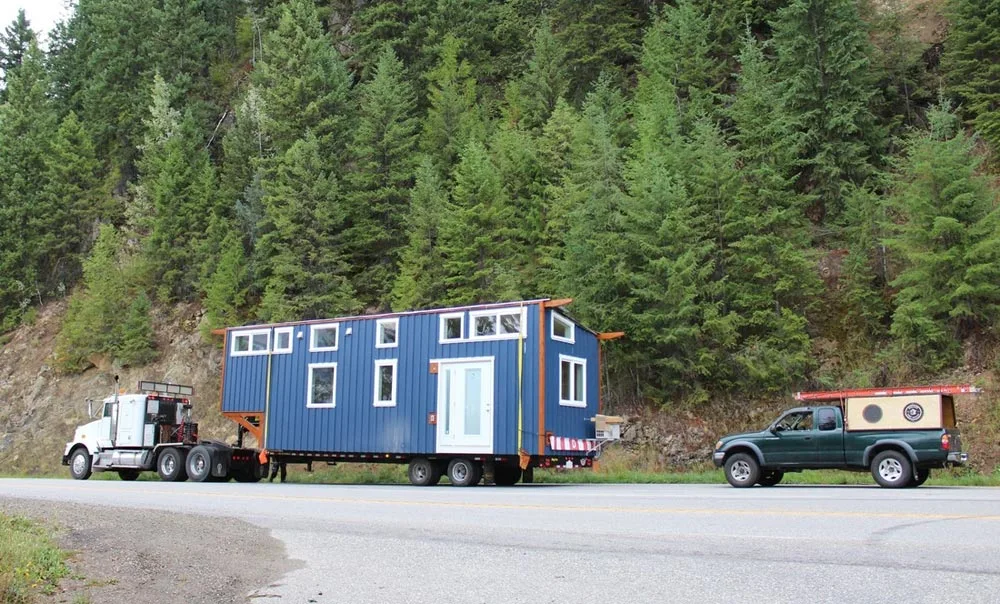 The wood stove keeps the house warm and cozy during the winter. The living room transforms into a dining room and office space. A bamboo table folds out from under the couch cushions and can fit at least four people.
The storage boxes that make up the couch base can be reconfigured to make a guest bed, plus there is another guest bedroom loft above the living room, which can be used for storage as well.
The Winter Wonderland's galley kitchen has a farmhouse sink, washer/dryer combo, full size oven, IKEA cabinets, and an apartment size refrigerator. A giant pantry and upper cabinets provide lots of storage space.
The client has a septic tank on-site, so the bathroom has a regular flush toilet. A full size bathtub sits under a large picture window, allow the client to gaze out at the stars and moon while enjoying a soak. Weathered wood tile floors and metallic tiles around the bathtub give the bathroom a unique finish.
Beyond the bathroom is the master bedroom, located over the gooseneck. This allows extra headroom, plus there is more privacy since it's on the opposite end of the house from the guest area. There is a full closet next to the bedroom platform.
Make sure to watch the video tour below!
Also available from Nelson Tiny Houses: Acorn, V House.
Images © Nelson Tiny Houses