In 2013, Rocky Mountain Tiny Houses founder, Greg Parham, built his first tiny house — a 16-foot Durango model that offered plenty of room for a single guy. Now that he's married and has two dogs, he and his wife, Stephanie, worked together on nights and weekends to build their new home, the San Juan!
The San Juan was built on a custom vee nose trailer that measures 8'4″ wide and 24-feet long. But, to call this a 24-foot tiny house is a bit misleading since the front wall has a 30-degree angle over the vee nose. The angle provides an extra three feet of length at the longest part of the roofline.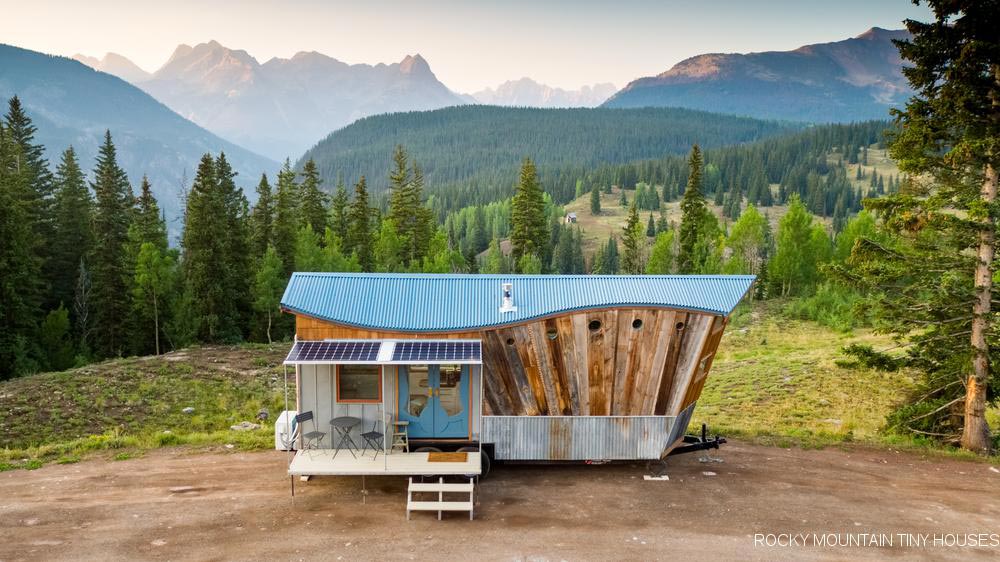 Greg has built over 60 tiny houses since 2013, so he has a bunch of material that accumulated around his shop over the years. Building this house gave him a great opportunity to use a bunch of reclaimed materials!
Exterior
The exterior has several materials that came together beautifully. There is a 36″ tin wainscot, stained cedar shakes, and barnwood. Some of the barnwood was used to create a sunbeam pattern with porthole windows spaced in the rays.
The roof's shape was based on the Pequod model, but with some modifications to make the roof and ceiling installation easier.
Off Grid System
The San Juan was designed to function fully off-grid. It has a 100 gallon freshwater tank, two 360 watt solar panels that double as the porch awning, and four more 360 watt panels that are ground mounted. There are four 400Ah AGM batteries and room to add wind or hydro generators. It was also made using structural insulated panels (SIPs) for superior insulation value.
Kitchen/Dining
The kitchen features a custom black mesquite live edge counter with Sleeping Beauty Turquoise inlays. A floating butcher block table slides out from under the counter and can be used as a dining table when fully extended or laptop table when partially extended. There is also a section of Silestone counter, providing a solid surface area for food prep.
A Kimberly wood stove sits across from the kitchen counter.
Living Room/Bedroom
Greg and Stephanie were done with climbing a ladder and sleeping in a loft, so they wanted a main floor bed. They were finally able to come up with an elevator bed design that didn't require a motor. The frame is large enough for a queen size mattress and has side rails made from walnut and alder.
When raised, the bottom of the bed displays a beautiful southwest mosaic made from painted and stained pieces of birch plywood.
Bathroom
Located over the vee nose, the bathroom has a unique shape with its sloped walls. The bathroom includes an epoxy penny floor ($80 worth of pennies!), live edge counter with vessel sink, an antique dragon faucet, Islandia glass tile in a Chevron pattern, and freestanding tub.
Learn More
Greg has a ton of information and pictures about the San Juan on his website. To view the details, please visit the Rocky Mountain Tiny Houses website.
Also available from Rocky Mountain Tiny Houses: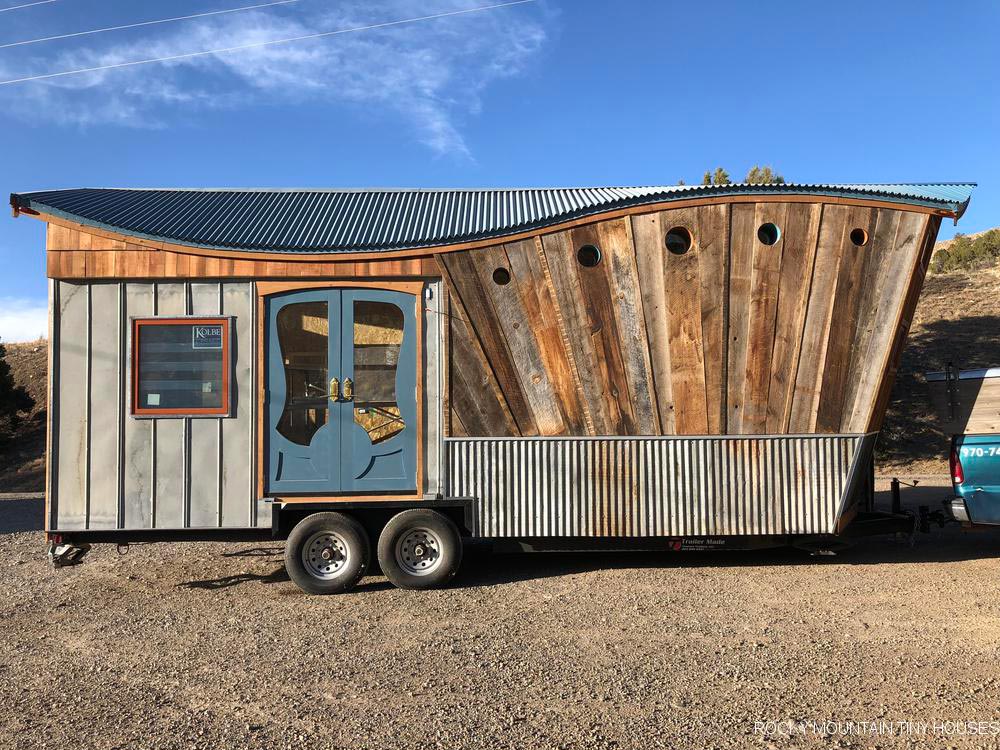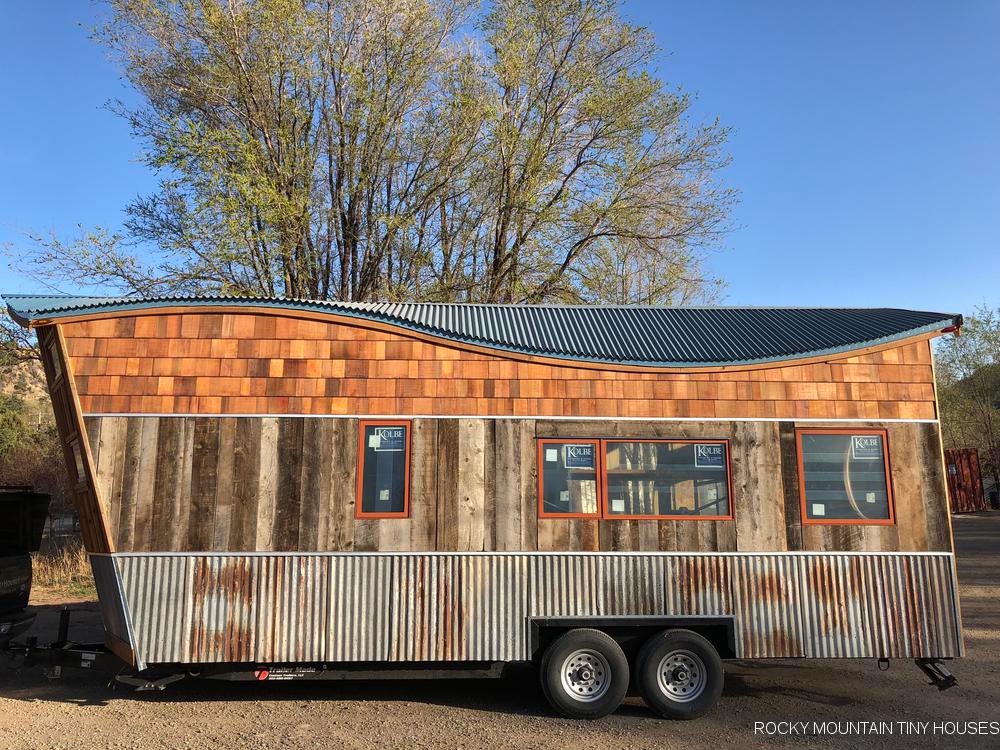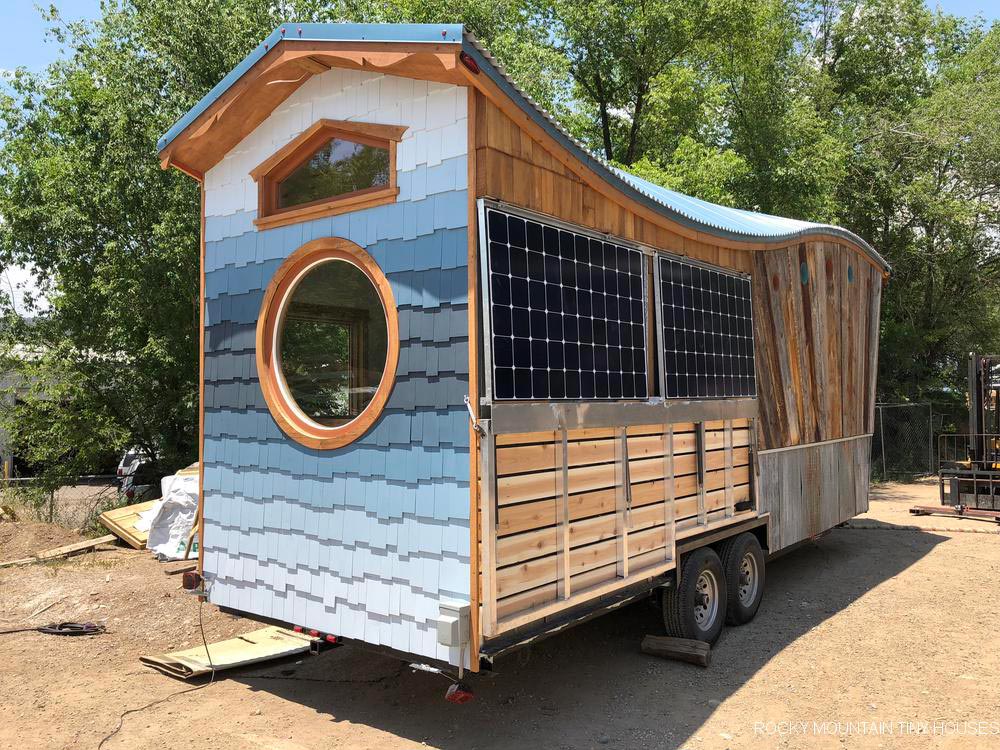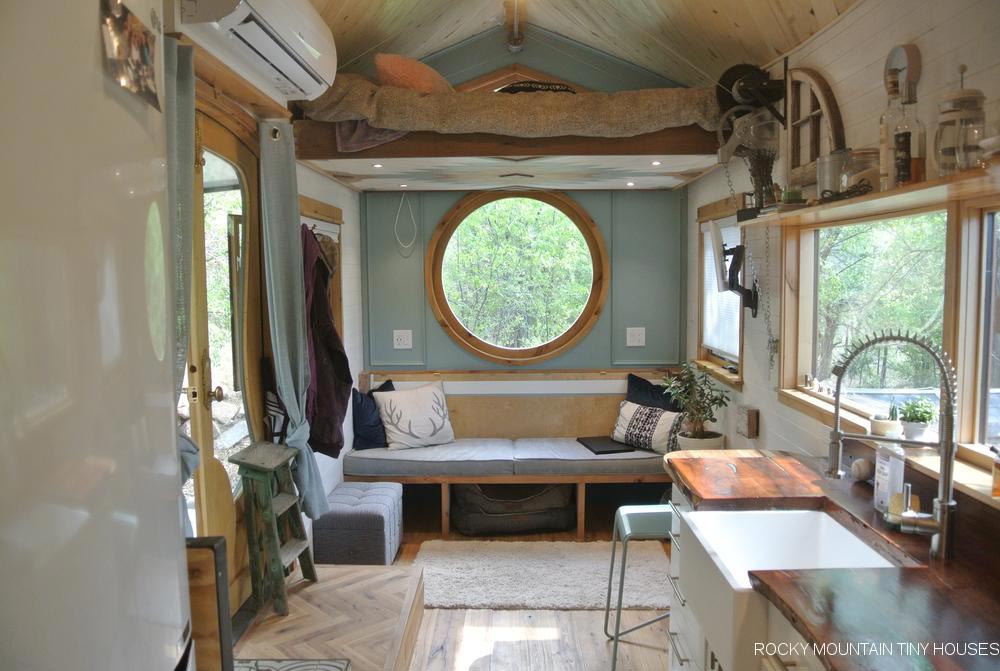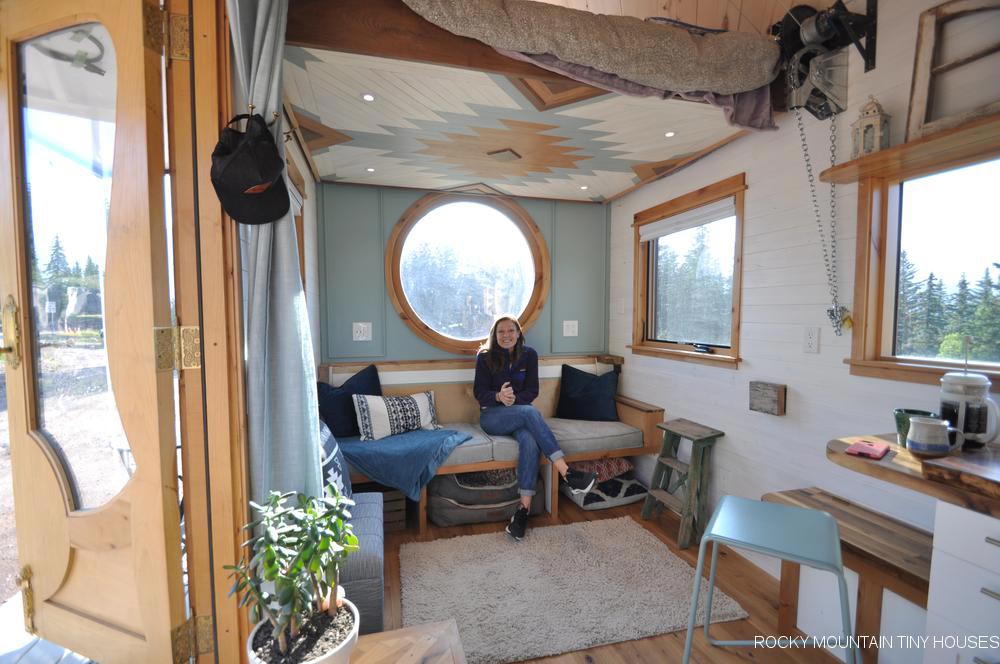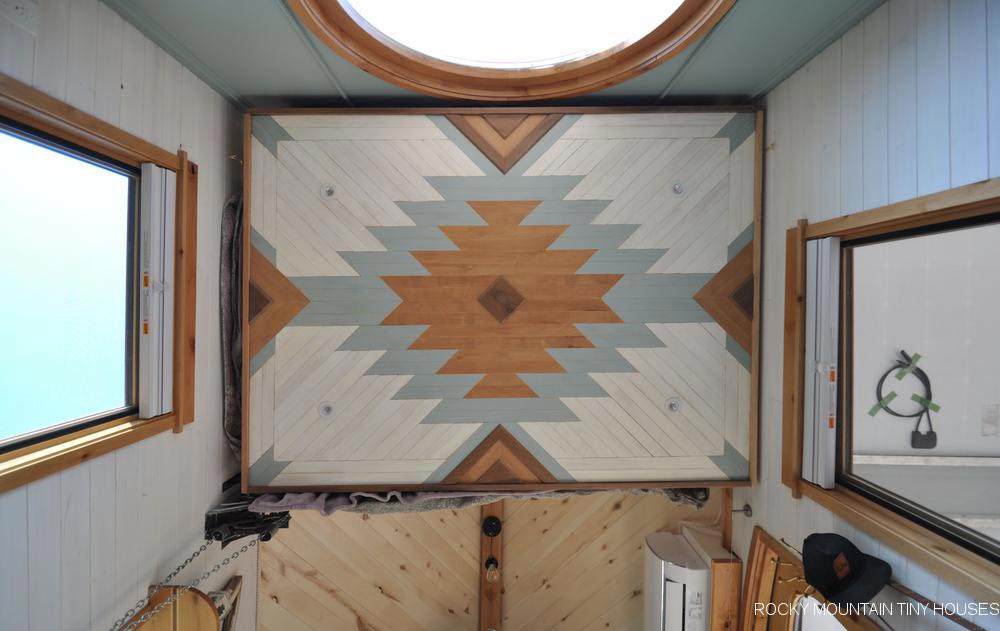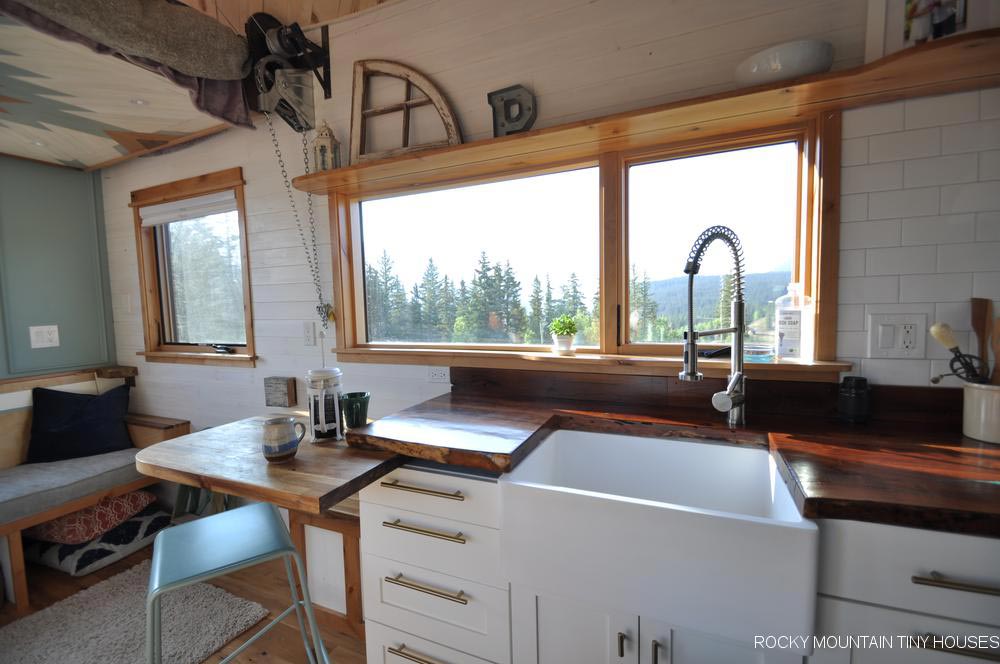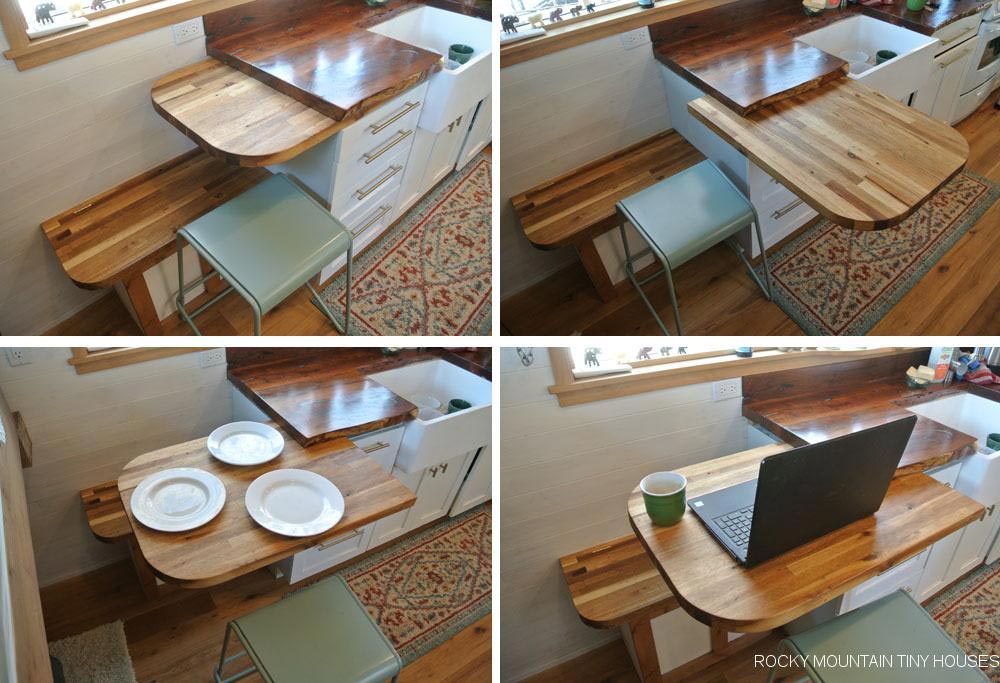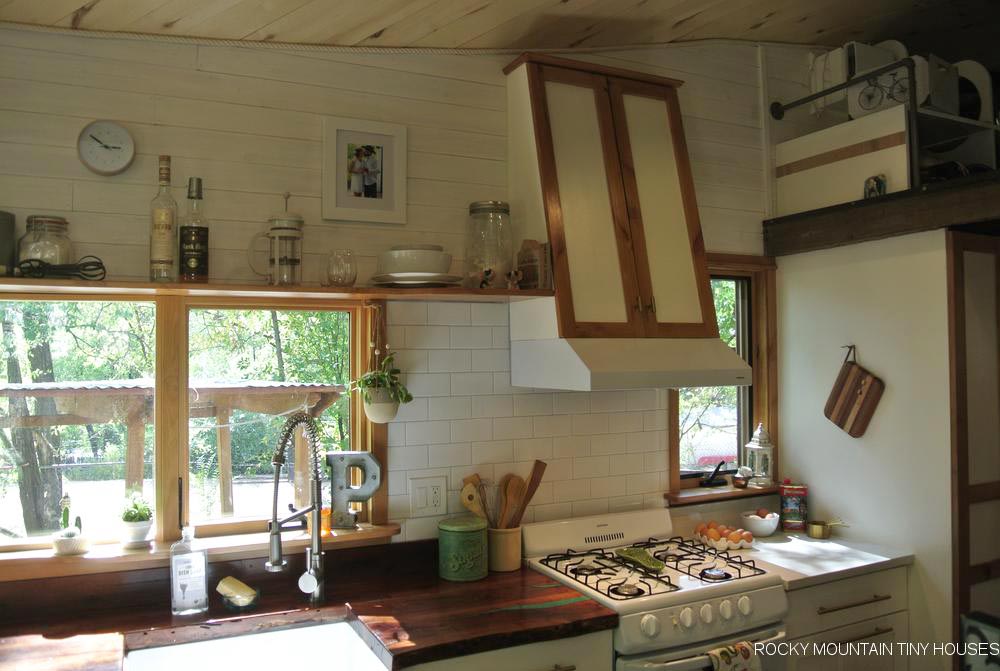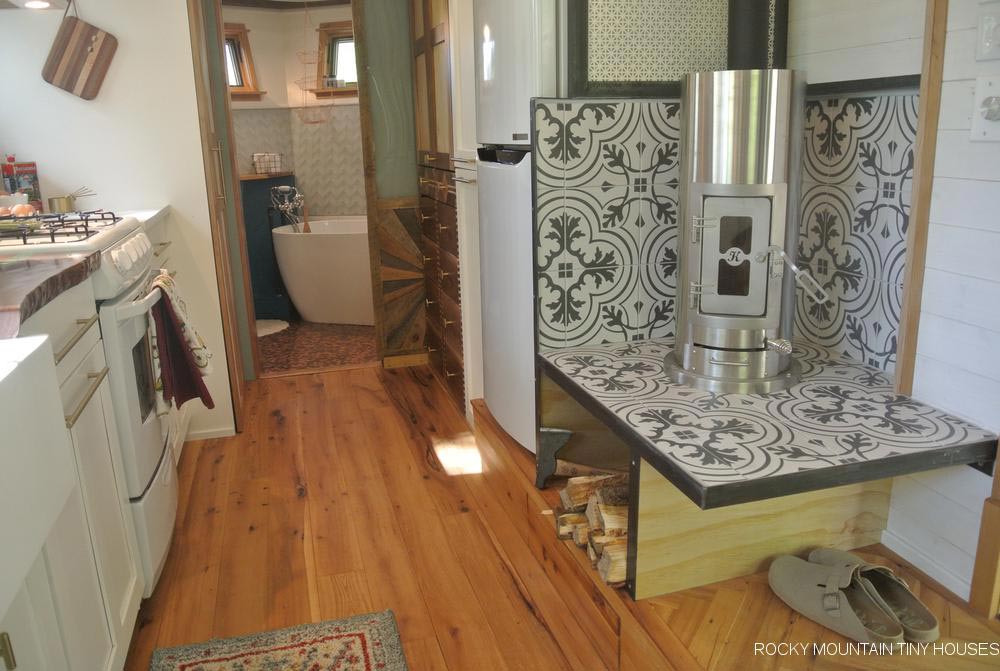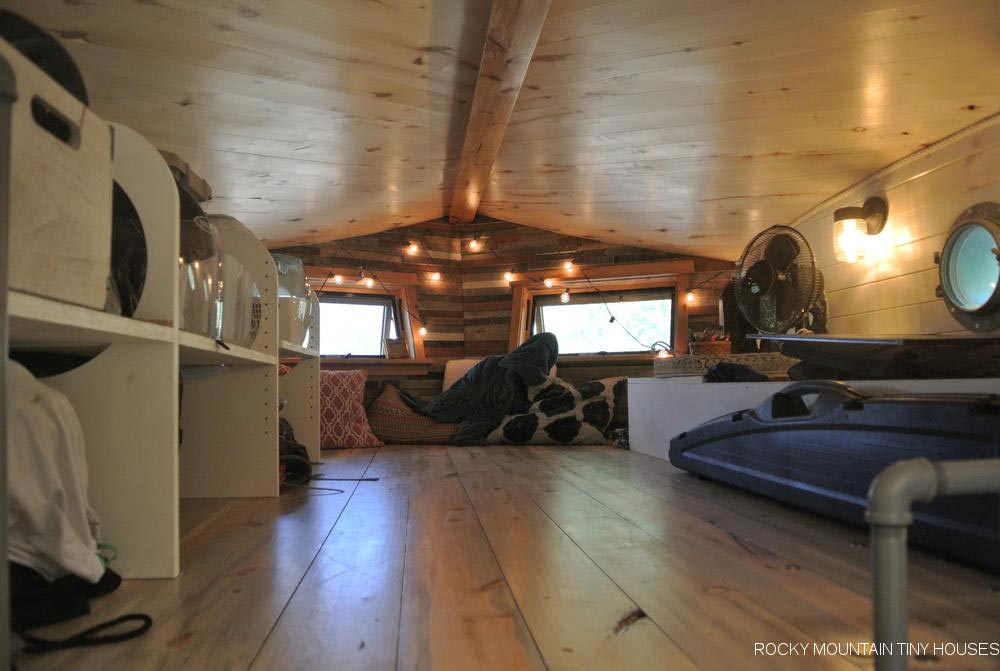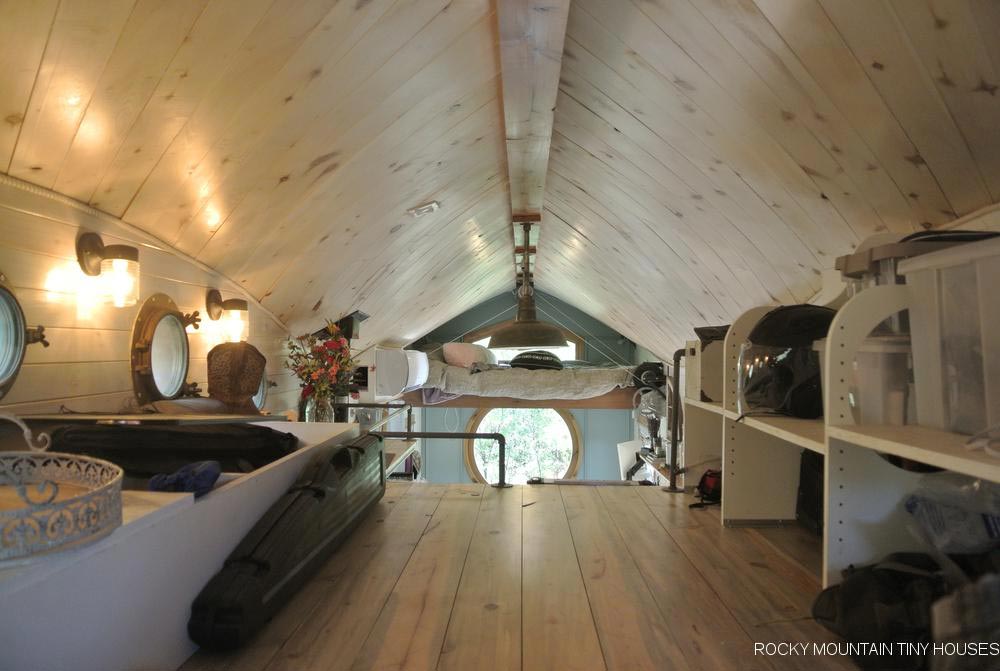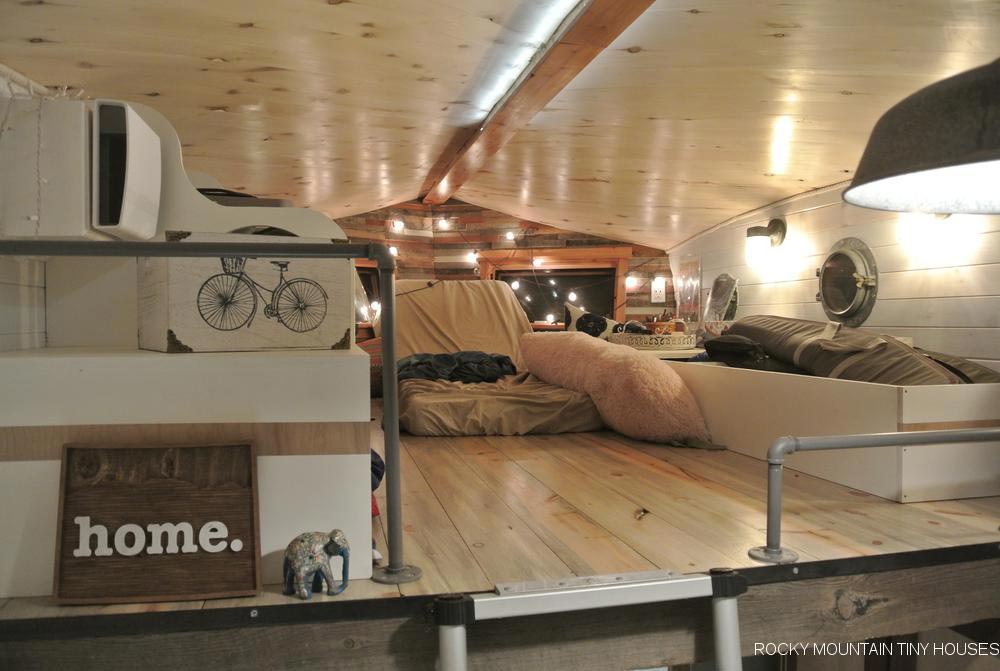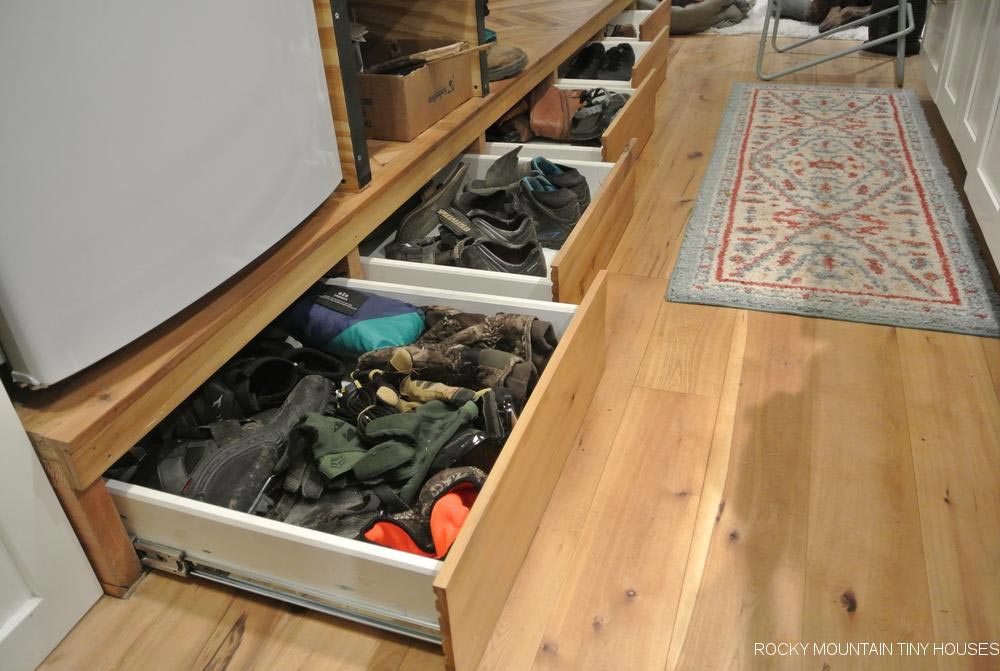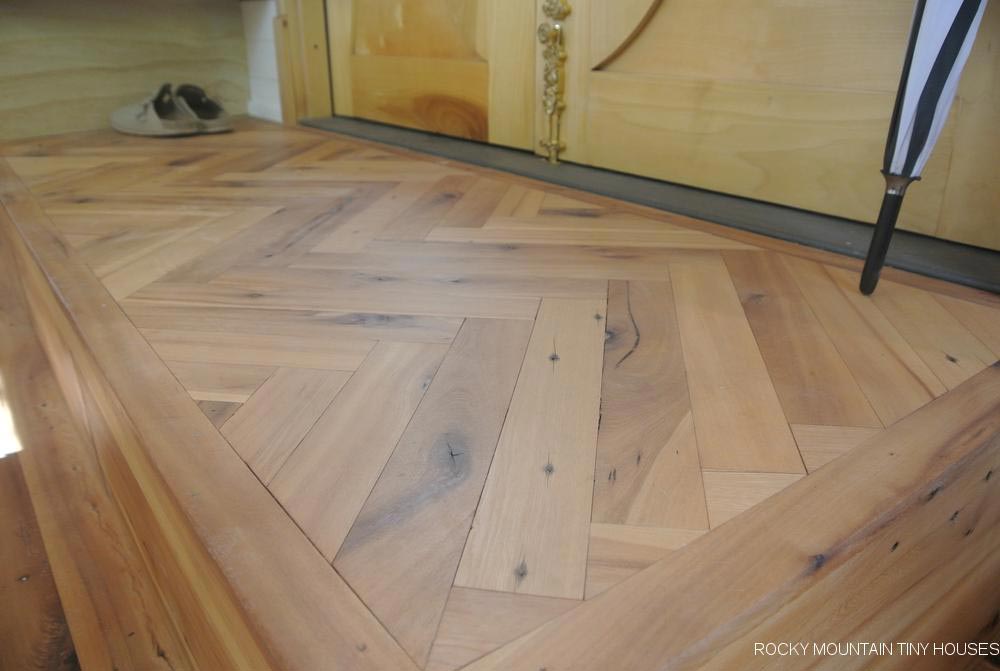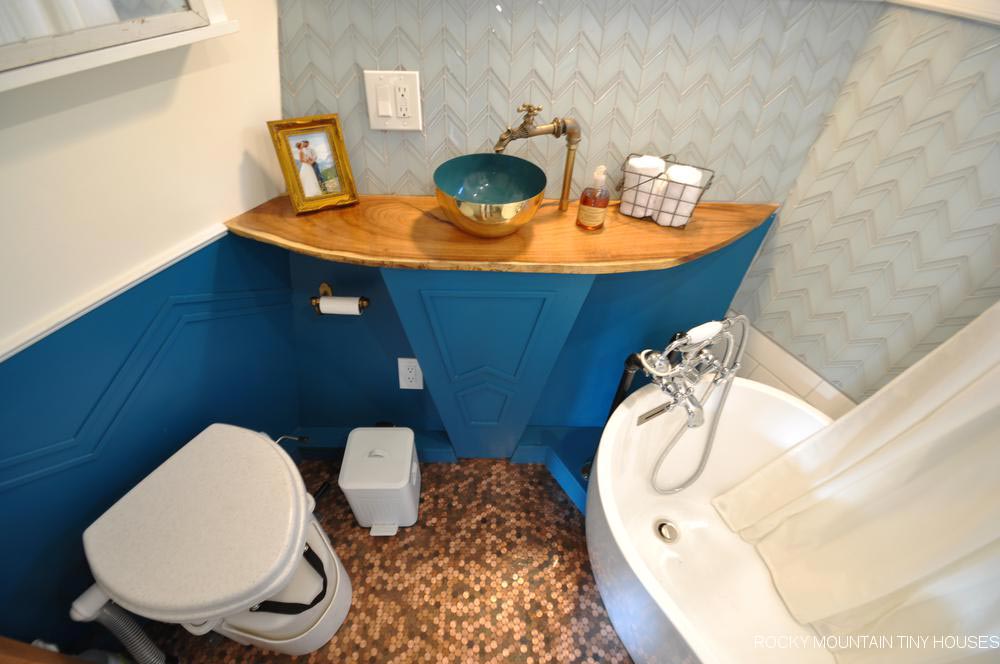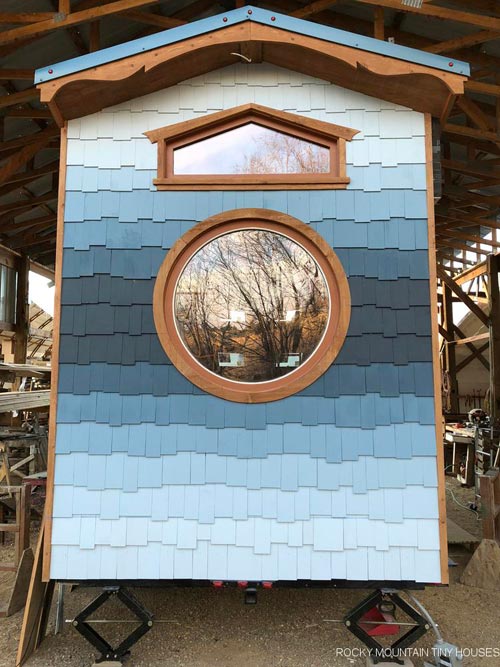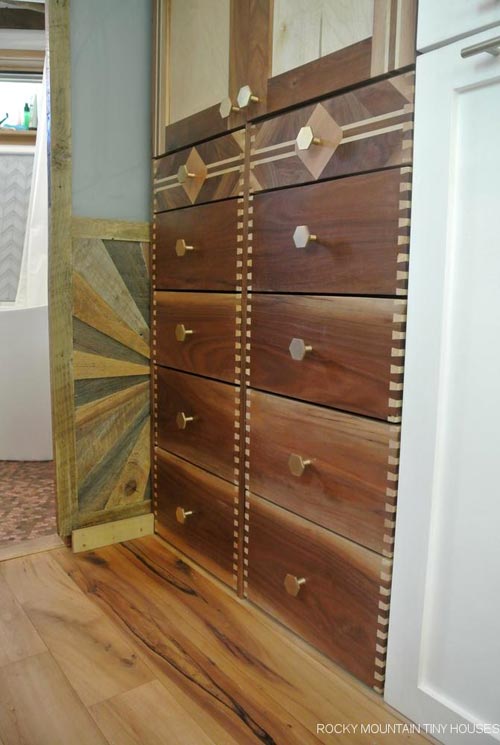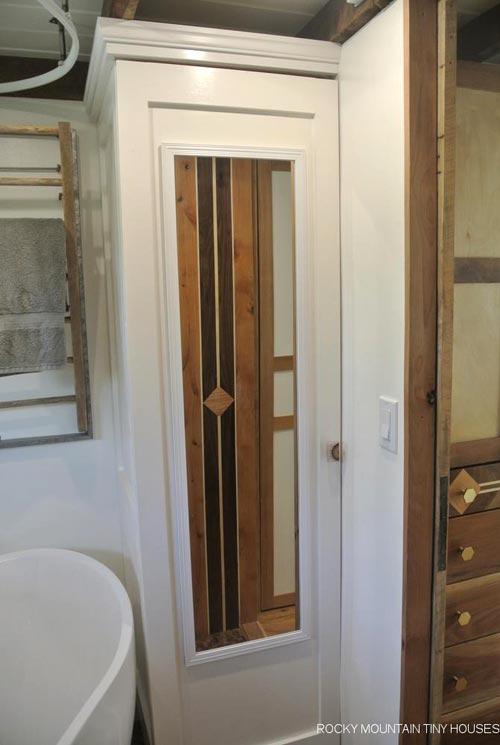 Images © Rocky Mountain Tiny Houses