This modern style tiny house is the Mooloolaba 7.2 by Aussie Tiny Houses. With its two sliding entry doors and plentiful windows, the tiny home offers a bright living space with great views.
The Mooloolaba 7.2 measures 7.2m long by 2.4m wide and stands 4.3m tall. The exterior is clad in Colorbond metal with wood accents. The matching metal roof extends over the living room entry door to provide a covered patio area.
The bright interior has painted white walls and wood grain waterproof vinyl plank floorboards. A bar height table sits in front of the bi-fold window.
The L-shaped kitchen features an electric oven, two burner gas cooktop, refrigerator, large pantry area, and overhead storage. A large window spans the length of the kitchen.
A rear staircase leads up to the bedroom loft. The staircase has two storage drawers and a deep storage bin. The bedroom loft has an elevated queen bed platform and includes three storage cupboards. There is a partial privacy wall as well.
In the bathroom is a floor to ceiling louvre window, shower, toilet, and wall-mounted sink. There is also room for a washing machine under the stairs.
The Mooloolaba 7.2 costs approximately $89,000 AUD for the turnkey model. For more pictures and details about the tiny house, please visit Aussie Tiny Houses.
Also available from Aussie Tiny Houses: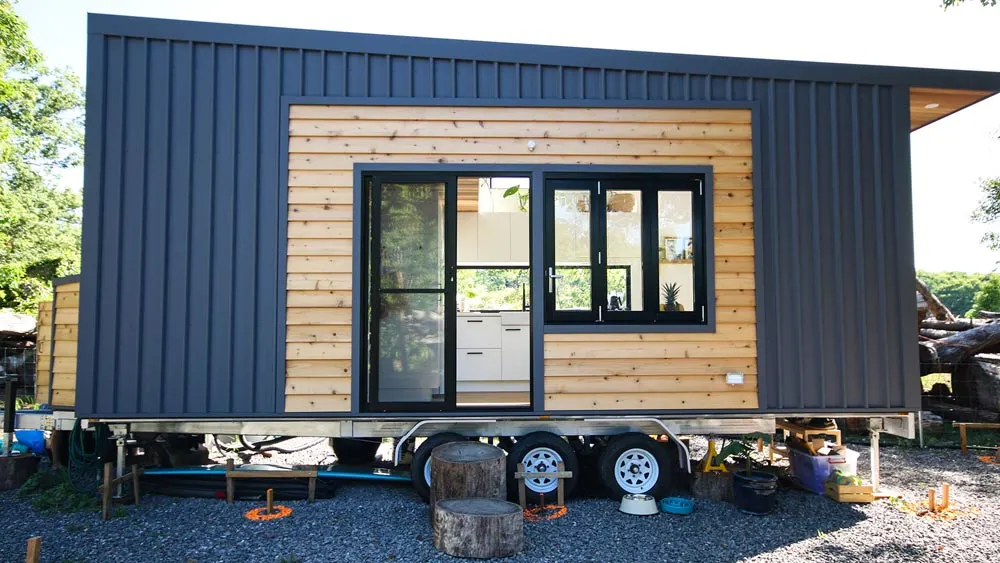 Images © Aussie Tiny Houses