With its floor-to-ceiling windows and cozy fireplace, the Bookworm Cabin provides bibliophiles a serene escape to enjoy reading and relaxing in the forests of Poland. The cabin is located 30 miles from Warsaw.
Created by Bartłomiej Kraciukand and Marta Puchalska-Kraciuk, the 377-square-foot cabin offers a 269-square-foot main floor with living area, kitchen, and bathroom, and a 108-square-foot sleeping loft.
Along the main side of the cabin is a wall of windows, which reaches over 16 feet at the peak. This provides abundant natural light and a wonderful view of the surrounding forest.
The exterior of the cabin is pine with a spruce roof and deck. The cabin has two oversize shutters to protect the window wall and lock the house when not in use.
Inside the cabin are natural pine walls and VOX oiled oak flooring, an Iwaki cast-iron wood stove by Invicta, and bookshelves lining most of the walls. Hundreds of books were provided by their publisher partner, Wydawnictwo Albatros.
A small kitchenette is equipped with a sink, two burner cooktop, and kitchen essentials.
A double bed is located on the mezzanine, which is accessed by a set of stairs.
Below the stairs is a full bathroom with white and gray tiles, a shower, toilet, and sink.
When not in use by the owners, they rent out the cabin through Slowhop. You can view their listing for availability and rates.
Photo Credits: Piotr Bednarski & Ernest Winczyk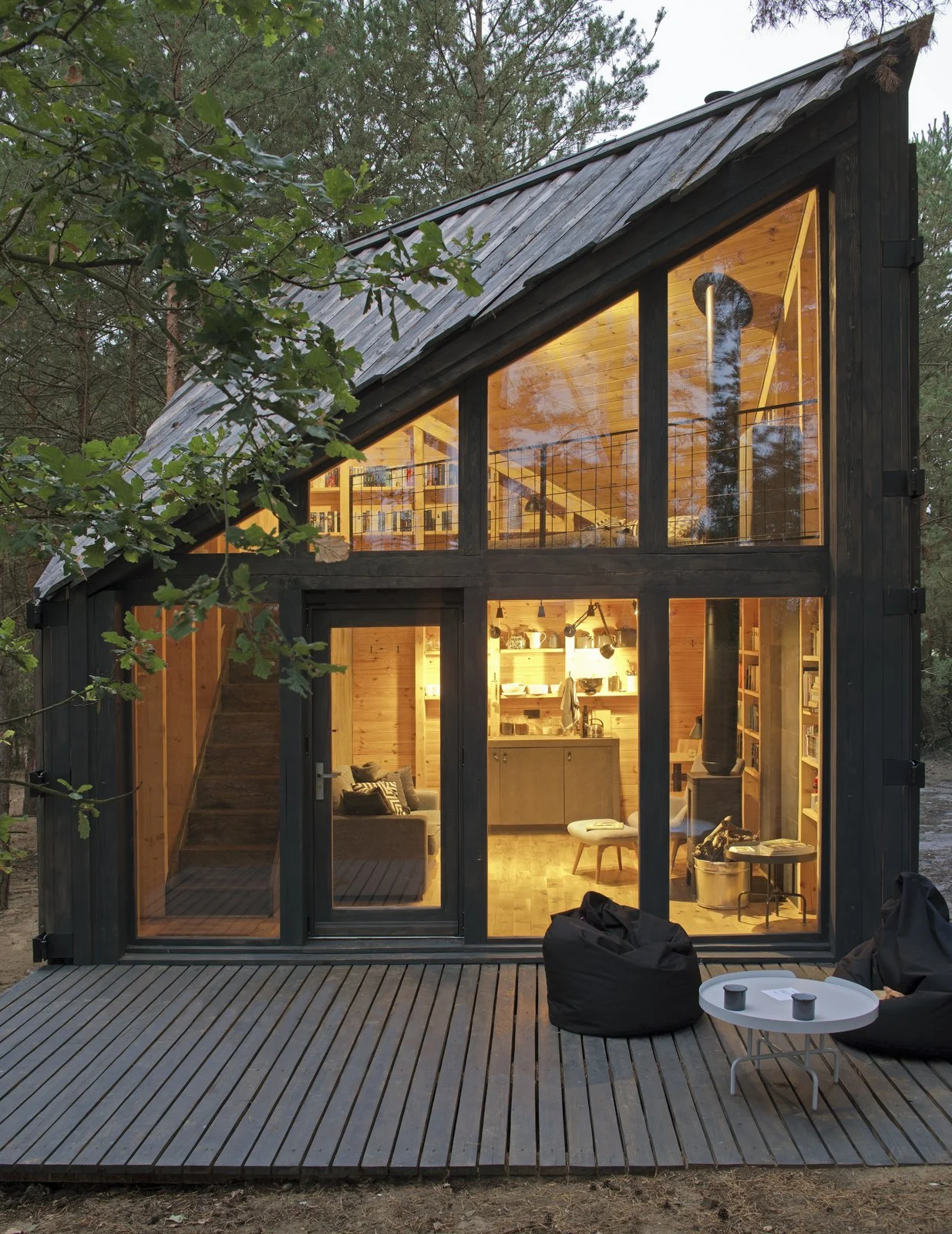 Photo Credits: Piotr Bednarski & Ernest Winczyk