From Alberta, Canada-based Teacup Tiny Homes is the Innisfree Anarres, a 28-foot tiny home on wheels with two large sleeping lofts and abundant storage space.
The exterior cladding combines natural wood and dark gray metal siding. The metal siding matches the roof and full light front door.
The tiny home has a passive solar heat panel next to the front door. This panel uses solar energy to heat the home and the temperature is controlled with a thermostat inside. Along with the solar heat panel are three solar panels on the roof. An exterior storage shed houses the batteries and converter.
Inside the Innisfree Anarres is 348-square-feet of living space, including the two lofts. Twelve windows, white walls and cabinets, and natural wood finishes create a bright, spacious interior.
The kitchen features a large counter with eat-in bar, a stainless steel apron sink, an electric cooktop with venting hood, and a refrigerator set in the storage stairs. There is plentiful storage space between the base cabinets, upper shelves, and storage stairs.
Between the kitchen and living room is a beautiful matte black fireplace.
The storage stairs lead up to the master bedroom loft where you'll find a built-in shelving unit and skylight. The other loft is accessed by a ladder.
The bathroom is located below the master loft. The bathroom has plenty of room for clothing storage, a washer, corner shower with glass door, modern sink, and composting toilet.
For more information about the Innisfree Anarres, you can visit the Teacup Tiny Homes website.
Also available from Teacup Tiny Homes: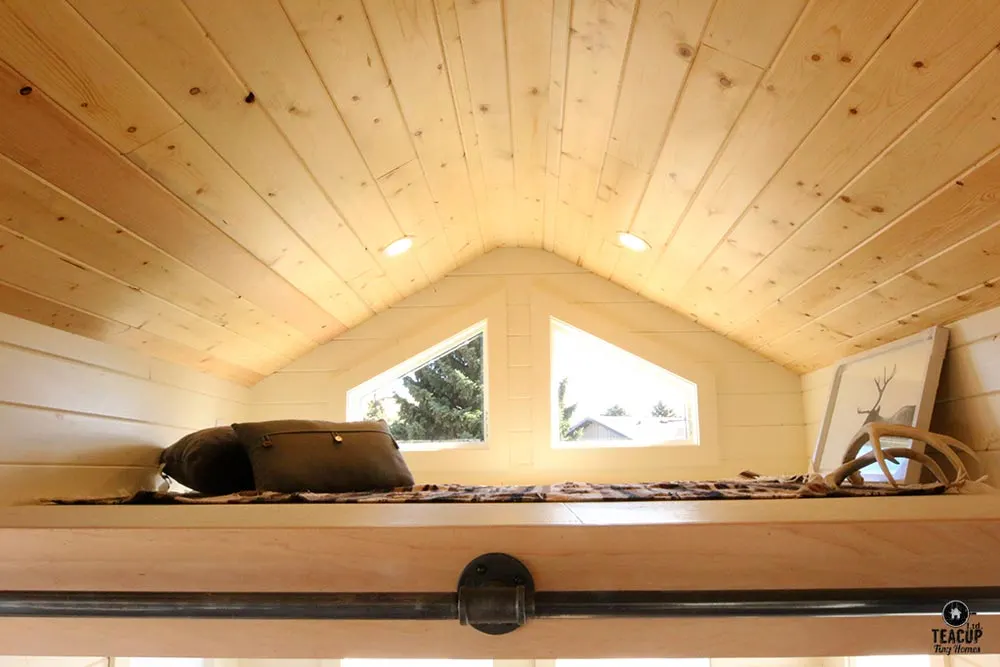 Images © Teacup Tiny Homes