As tiny living continues to gain in popularity, tiny house communities have been popping up throughout the United States and are now available coast-to-coast. There are a variety of concepts available, from eco-villages to vacation retreats, rural or urban living, rent or buy.
These communities typically have common areas such as a community garden, dog park, green space, nature trails, firepits, and recreation areas. They may also include shared amenities like a fitness center, laundry facilities, kitchens, and BBQ grills.
One of the most common questions we get is where do I park my tiny house? Here are 10 tiny home communities where you can park your tiny house!
1. Spur, Texas
Rather than a single community, let's start with a whole town! Spur, Texas was the first town in the U.S. to welcome tiny houses. This tiny town of 1,000 residents is located in west Texas and makes it easy for tiny house dwellers to settle in a welcoming environment.
"We propose that tiny houses in small towns yield even more freedom and offer a unique opportunity to regain a sense of community and self sufficiency." — SpurFreedom Website
Self-sufficient individuals or remote workers can enjoy low cost of living (30 percent less than the national average), fiber-optic Internet, and likeminded neighbors. You can find out more on the SpurFreedom website.
---
2. Cedar Springs Tiny Village – New Paris, Ohio
Cedar Springs Tiny Village is a collaborative effort between Modern Tiny Living and Gerald Brubaker, a visionary tiny house enthusiast. As Ohio's first exclusive tiny living community, they accept all certified tiny houses on wheels with certifications by NOAH, RVAH, RVIA, and Pacific West.
The community has lakefront views and mature cedar trees, walking paths around the lake, and community garden access. The community is made up of tiny homes owned by the residents, and the sites are rented/leased.
Cedars Springs is within 1.5 hours of Cincinnati, Columbus, and Indianapolis, and only 40 minutes from Dayton.
---
3. Acony Bell – Mills River, North Carolina
Acony Bell is a tiny home community with over 50 acres, 96 tiny house lots, and 17 tiny house vacation rentals. Nestled in the heart of the Blue Ridge Mountains, the community is located 22 miles from Asheville, North Carolina. A stream runs through the center of the community.
The community amenities include community gardens, edible landscapes, walking paths, mountain bike trails, and fully stocked fire rings.
​From Acony Bell you can enjoy hiking trails, world-renowned mountain biking trails, and a trophy trout fishing area in the Pisgah Forest located a short distance away.
---
4. LuxTiny – Lakeside, Arizona
Located in the White Mountains of Arizona, LuxTiny is a tiny house community with 37 spaces, a community garden, and walking path spread over six acres.
They are encouraging net-zero tiny houses, greenhouses, solar panels, chicken coops and any other green living aspects.
---
5. Tiny House Block – Mount Laguna, California
Founded by sister-brother duo Melissa and Jon Block, Tiny House Block offers short- and long-term rentals. The 3.5-acre property is close to the Pacific Crest Trail and provides guests easy access to numerous hiking trails.
The property has options to park your own tiny house on a rented pad, lease an existing tiny house for 6-12 months, or stay in a tiny house as a nightly rental.
---
6. Escalante Village – Durango, Colorado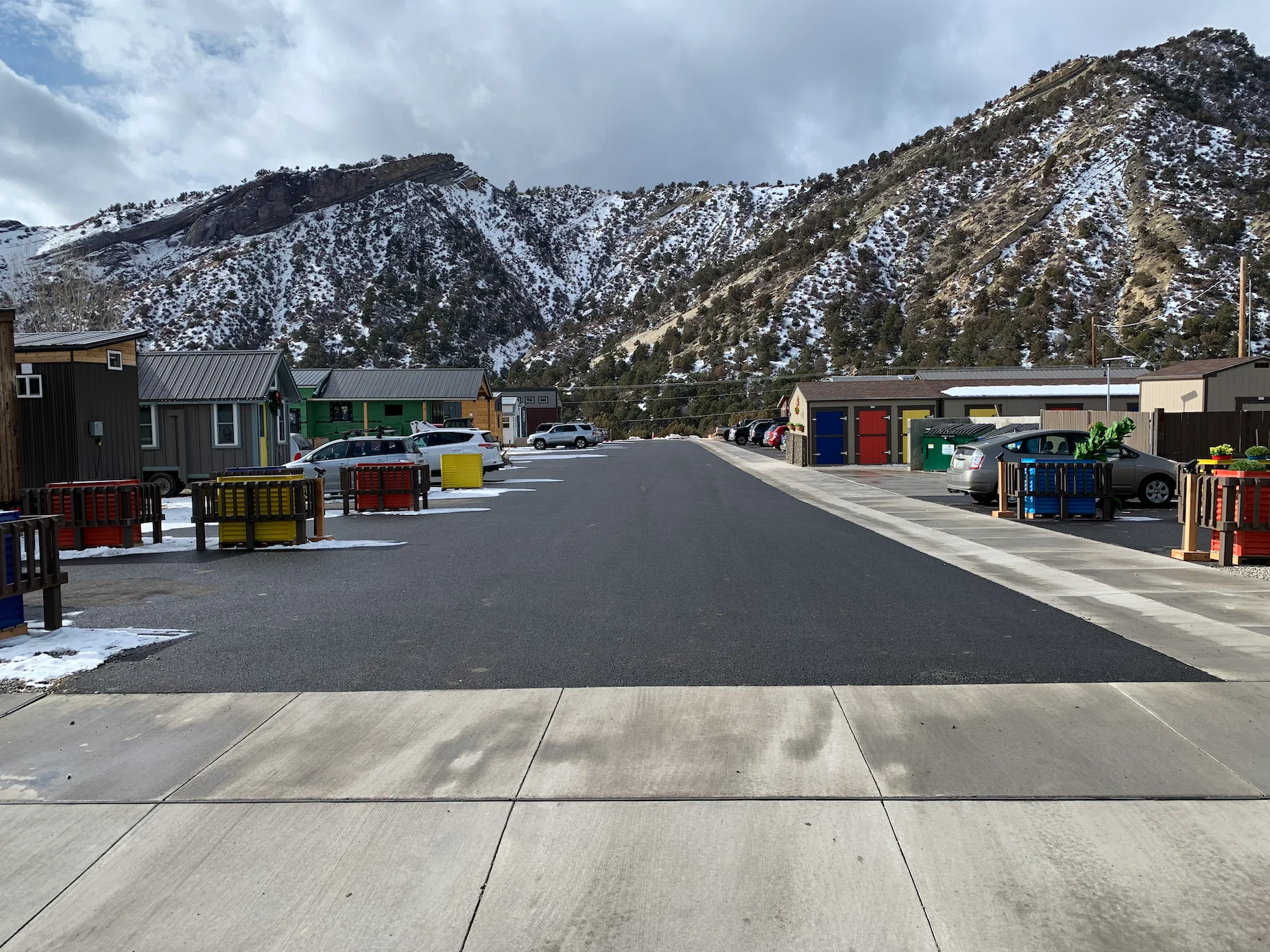 Located along the Animas River in Durango, Colorado, the Escalante Village is home to 24 tiny home spaces: 18 dedicated to long-term renters with their own tiny houses and 6 for short-term rentals.
On-site is a community garden, two garden beds per space, and fiber optic cable internet.
River trail access provides a convenient 15 minute bike ride to downtown. There are also several retail establishments within walking distance.
---
7. Circle Pond Tiny Community – Ruskin, Florida
With 12 tiny house spaces available for monthly or yearly rent, Circle Pond Tiny Community provides a private environment focused on permanent tiny home living. Long-term residents won't have to worry about short-term vacation renters.
The community is situated on approximately five acres with lot spaces surrounding Circle Pond.
Circle Pond has a community garden and shared fruit from mango, avocado, olive, mulberry, banana, plum, and loquat trees on site. Raw honey is also produced on-site as well!
---
8. Tiny Tranquility – Waldport, Oregon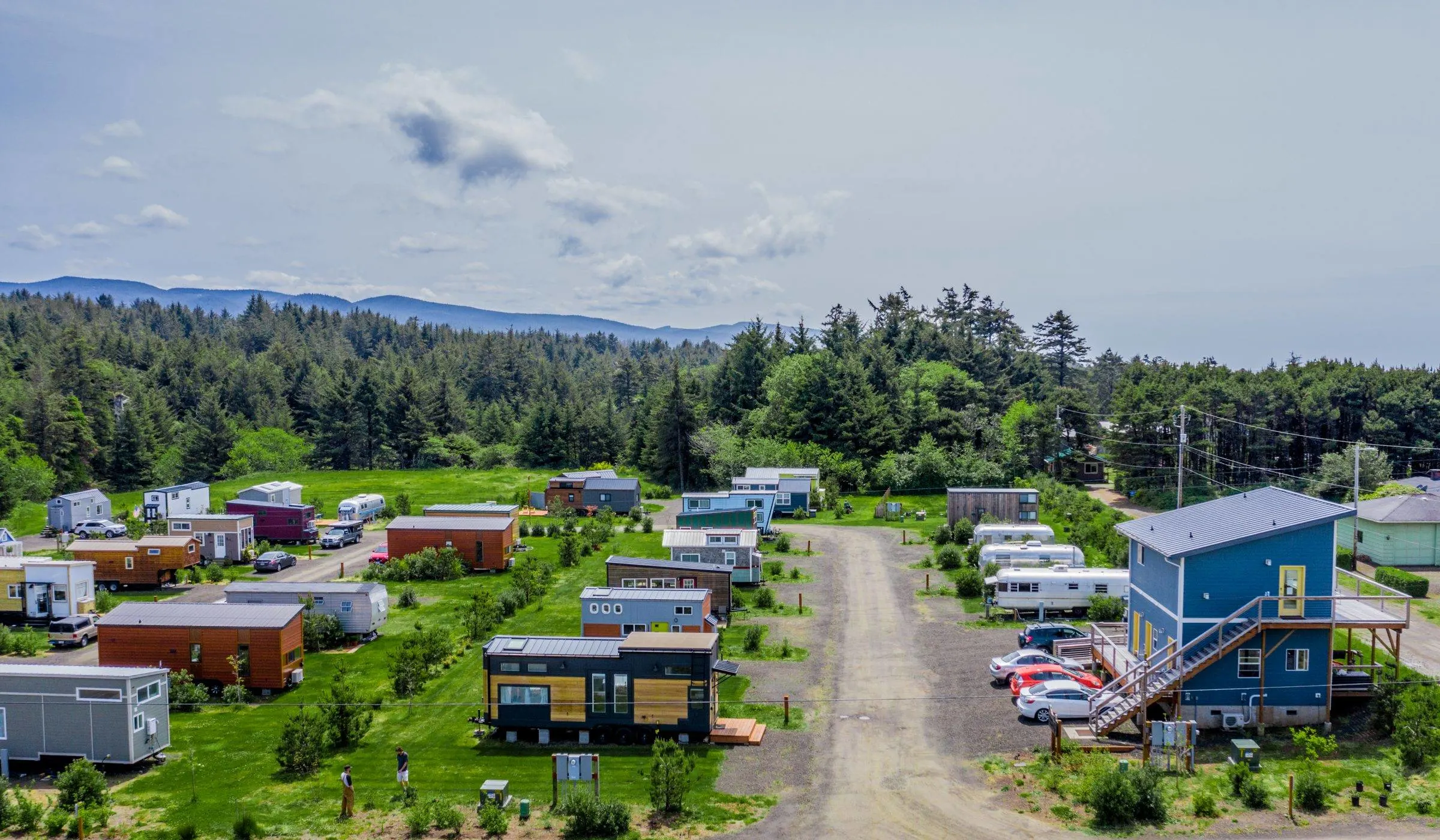 Located along the Oregon Coast, Tiny Tranquility offers residents a peaceful location to call home. There are a total of 43 sites ranging from 2,400 – 4,000 sq.ft., spread across 6 acres of the developed park.
A 2,400 sq.ft. game and entertainment room includes a 65″ flat screen TV, multiple seating areas, a wood stove, and ping pong and pool tables. There is also a covered eating and grilling area, a fire pit/seating area, and fitness room behind the lodge.
Their 12,000 sq.ft. greenhouse houses the park's community garden, offers storage space for long-term residents, contains a workshop available to the residents, and serves as the workshop for a local glassblower.
They are only renting sites on a long term basis with a 12-month initial term.
---
9. Orlando Lakefront at College Park – Orlando, Florida
Want to live tiny in a metropolitan city? It's now possible in Orlando! Located seven minutes from downtown Orlando, Orlando Lakefront at College Park offers tiny house owners the conveniences of big city living. The park is 20 minutes from major attractions and theme parks.
The park is primarily for long-term renters with 40 lots to park your own tiny home. It also offers 13 unique tiny home vacation rentals for short-term stays.
As the name implies, Orlando Lakefront is located on a lake. The park amenities include a boat dock, fishing docks, a laundromat, and a community garden. There is also a green park on the lakefront for your tiny house pets.
---
10. Village Farm Austin Tiny Home Community – Austin, Texas
Located in East Austin, Village Farm is an agrihood centered around Green Gate Farms, a USDA certified organic farm established in 2006. The community features an initial phase of 48 tiny home lots with an additional 119 lots being developed in four phases.
Throughout the community are raised gardening beds for residents that want to grow their own produce.
Once the phases are complete, residents will have access to a general store, cafe, amphitheater, community gardens, pocket parks and more.
---
Give Tiny Living a Try
These properties offer nightly rentals so you can see whether or not tiny living is for you!
We also have an article with 17 Tiny Houses For Rent in Florida on Airbnb in 2023.